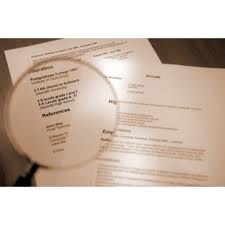 In most cases, your CV is the barrier to getting face to face contact with potential employers. As such, it remains one of the most crucial elements of anyone's job search, particularly in the private sector where CVs are very much the standard application process. I am frequently sent emails about the CV review service that I provide. This blog post provides a quick Q&A on some of the main questions I get asked about this service so will hopefully answer any queries you may have:
Do I need a CV review?
In many cases, yes. A CV review works well for a whole host of different reasons. Perhaps this is the first time you have ever been required to produce a CV and you don't know if your efforts are hitting the mark or not? Perhaps you are finding that your current CV just isn't getting you the interviews that you feel you deserve? Or maybe you are a career changer who needs to carefully consider how your past experiences can be presented in the most positive, and relevant, light? In all of the above cases, getting your CV professionally reviewed could be a very wise move. But I'm also a firm believer that ALL CVs can be improved in some way; it often takes a fresh pair of eyes in order to be able to do this.
What qualifies you to do this for me?
As a careers adviser with an extremely varied client base, I am presented with a wide range of CVs (both academic and professional) through my work and this has given me very clear views on what I believe 'works' and what doesn't. Added to this, my early career was developed through in-house recruitment roles where I was literally reading hundreds of CVs each week and making decisions on job suitability from what I saw. This experience has been invaluable, and when I conduct a CV review I very much try and put myself in the recruiters shoes; understanding the parameters of their role is crucial in producing an effective CV review.
If you still need more convincing, you'll find some great testimonials on my website from past clients.
What format will the review take?
Your review will be presented to you in a word document likely to be 2+ pages long (although this depends completely on the quality of the CV that you send through in the first instance). In most cases, the review works through each individual section of the CV one by one so is very straightforward and easy to follow.
What kind of things will it focus on?
Again, this will be dependent upon the quality of the initial CV that you send through. Typically, a review will highlight both the strengths and weaknesses of your version, but paying particular attention to the areas for development. The comments I make are likely to focus on two distinct areas; (1) the content of your CV (how well tailored it is towards the roles you are applying to, how well you manage to convey your achievements and skills, as well as issues of grammar and tone) and (2) the structure of your CV (how the layout may be improved in order to make a stronger, and more immediate, impact to the reader).
Will you rewrite my CV for me?
No. I am a strong believer that the 'owner' of a CV must also be its author. However, there may be instances in which I suggest alternative ways of wording sentences or phrases to ensure they make a stronger impact.
There are many CV services out there that offer to produce CVs from scratch, but I will never be one of these. To do this correctly - to gather all the facts about a person's employment, education, achievements, etc - is a time consuming process and as such these services tend to be very expensive. My belief is that it is a much more effective use of resources to ask the client to put this basic information together first in the form of their own CV, however unpolished it may be. I can do the rest through my review service.
Will a review guarantee success with my applications?
Sadly, no. If only it were that easy! There are certain things beyond my control here - your professional and academic achievements, the skills and experiences you have developed along the way (I can't change these, or add to them) and the quality of the other applicants who are competing for the same job opportunity. And let's not forget that CVs will always be subjective - we don't know the preferred 'style' of the employer or recruiter who will ultimately be reading it. HOWEVER, I am very experienced at reviewing CVs and have a strong understanding what recruiters want to read. Ultimately, this service is about making your CV as good as it possibly can be, based upon your own unique set of skill, experiences and achievements.
What is your turnaround time?
As a general rule, I can turn around a CV review within 48 hours. If this isn't possible, I'll let you know at the point of booking. Additionally, and where possible, I will try to work with any deadlines that you may have. Please discuss this with me when you make your enquiry.
What do I need to do to book a CV review?
You need to have a copy of your CV that is ready to send through for review, along with some information on the type/s of jobs you wish to target it towards. Job specs or job adverts are handy if you have them to hand, but if you are not applying in response to a particular opportunity then just give me as much info as you can about the type of work you are looking for. Email the CV along with this information through to info@momentumcareersadvice.com and we can take the rest from there :)
---
A CV review from Momentum Careers Advice costs just £60.