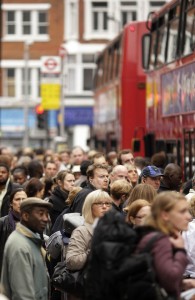 Welcome to this week's 'The Monday Interview'.
Today's interview takes an interesting turn from the norm as we are not looking at a particular occupation, but rather a way of working.
As you may be aware, the school Easter holidays are now underway and as many of you take some time off from work - and with it, the grind of the daily commute - I thought this was the ideal time to bring you this interview.
It is generally reckoned that the UK 'enjoys' the longest commuting times in Europe with the TUC calculating an average annual commute time of 197 hours. That works out as 5 extra working weeks - yikes! It is no wonder the idea of working from home is so attractive to many. But is it really the ideal solution that everyone thinks it is or are there other complications and drawbacks that come with being a homeworker?
In today's interview, Rachel shares her experiences of working from home with us. And we discover that in order to succeed in business this way it is much less about daytime TV and much more about discipline and strong self-management. Thanks so much, Rachel, for giving us an insight into the reality of homeworking. It's certainly not for everyone but it is inspiring to hear from someone who makes it work so well for them.
---
So, briefly, what is your job?
"I am self-employed in the publishing industry as an international rights agent and I work from home. I currently represent a number of publishers and negotiate the sale of the translation rights for their titles into my target markets. I specialise in sales to Germany, France, Scandinavia and Eastern Europe and have spent years establishing good connections with the main publishers in these territories. I have a background as an in-house employee managing rights sales, however 3.5 years ago, I set up my own business and I now work from my home office."
How did you get into it?
"I graduated with a BA in Modern Languages (French & German) and fell into rights management when I answered a job advert for a multi-lingual assistant in a Bath-based publisher. It's a great way to use my languages and connect with so many people internationally, two of my passions in life! The chance to become self-employed arose after the arrival of my second daughter. I had resigned from my current job, and after 18 months of trying to decide what I wanted to do with the rest of my life, a former colleague contacted me, saying that she worked for a small publisher who was looking for rights personnel but would be happy for them to be home-based and self-employed. I started with representing just that publisher and have since grown my client base to include four very different lists."
Describe a typical day.
"I start work about 9.30am and always check new emails first. There's usually some emails from my Australian client, which have arrived overnight due to the time difference. My work is 99% email-based with the remaining 1% on the phone. I do attend three major bookfairs each year where I meet my customers face-to-face but the subsequent negotiation is carried out on a title-by-title basis via email. A typical day of emails might include a request for pricing, sending pricing to customers, dealing with an offer from a customer, some rights are sold via auction and this can take up lots of emails bouncing to and fro from all included parties! I might be setting up appointments for bookfairs, chasing customers for feedback, arranging for reading copies to be sent to customers. I also read regular blogs, twitter and facebook to keep up to date with trends in the publishing world. There's also a fair amount of admin involved, chasing customers for payment, keeping the rights database up to date, making sure contracts are being processed, followed up etc. I spend most of my time on email or Excel."
What do you enjoy most about your job?
"I love the flexibility and the autonomy. I am my own boss, I can work when it suits me best. The majority of days this will be within "traditional" working hours but other days I might make an early start and work 6-7.30am before the kids are up, and I will always check my emails before bed at night, about 11pm. That's a good time to get cross-over with my American clients. I love the communication with my international customers, my emails are in a mixture of English, French and German. I like the fact that I am offering them a good service but they have no idea I am sat in my home office with just my cat for company! I also love the fact I can be involved with my children's school events, assemblies etc, and can be present within the school, but still have a sense of 'me'."
And the least?
"I have to be disciplined and there is a strong temptation to be easily distracted e.g. by facebook. It can also be quite isolating at times, the phone might ring and I realise that I have not spoken to anyone else for hours beforehand that day! It is also sometimes difficult to balance work commitments with family commitments. My flexibility means I can take time away from work if the girls are ill, or during school holidays, but my work is still there to be done, so juggling the logistics can be really tough at times."
What are the common misconceptions that people have about the work you do?
"People sometimes do not understand that I still have responsibility despite my apparent flexibility. I can attend school functions, and meet friends for coffee, but I am not always able to drop things just like that. If I am in an email negotiation with a customer, it can be quite intense, and takes a lot of concentration. I also think a lot of people under-estimate how disciplined you have to be to be able to work from home efficiently and the intrusion that it can have on your family life, as you cannot walk away from it easily. Contrary to what some people must think, I do not watch daytime telly all day and I do not get that much time to clean and tidy the house, despite the fact I am in it all day."
What are the main skills you need to work from home?
"To be able to work from home efficiently you need to enjoy your own company, be able to manage your own time, and have a good sense of purpose. You need to be well-organised, and disciplined."
Tell us a little about the benefits that come with the job.
"I love the mixture of working from home, the flexibility, but the international bookfairs and the independence that I have. As I am commission-based, this job is certainly not a money-spinner and there are times when you might question its worth, but then it is a brilliant feeling to be autonomous and know that I can be involved in my kids schooling while they are young, whilst still keeping my finger in the working pie."
What advice would you give someone wanting to work from home?
"If you are contemplating working from home, make sure you have a "work space" which is your space, and you can be left uninterrupted. My office is "my space" and the rest of the family know not to move things about in it, even if it is full of exciting looking books at times! It is also good to build up a good network of people who can help you out if there is a clash with work & family commitments. Also you must be disciplined to turn away from work at the end of your day, it's very tempting to work all hours, but you do need time off too!"
Where do you see yourself in 10 years' time?
"I'd love to think I will still be doing this! Sometimes I think I may return to an office-based employed position, but I would have to give up a lot of freedom for that. I'd like to think I'll definitely be working within the rights business though - it is rapidly changing world especially in the light of digital advancements but everyone still loves reading, and that will not change, even if the methods they use for it do!"
AND JUST FOR FUN…
First in the office or last to leave?
"Just me and the cat for company, and I usually beat her to the seat."
Tea or coffee?
"Coffee."
Staff canteen or packed lunch?
"Lunch at home, sometimes accompanied by an episode of Scrubs or the BBC News at 1!"
The lift or the stairs?
"There's no room for a lift in here :)"
Out after work or straight home to bed?
"There's always time for a glass of wine…"
---
If you are interested in homeworking (and don't forget, it's not just an option for freelancers) you may be interested in reading my blog post 'Flexible Working - what is it, and can I apply for it?'
---