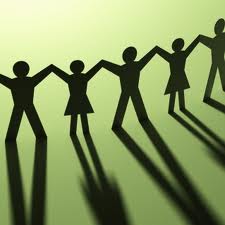 Welcome to this week's 'The Monday Interview'.
Let's face it, we've all have days where we wished we didn't have a boss. However, it remains a probable feature of most people's careers, unless self-employment beckons. But what about alternative arrangements? What about a work situation where there is no boss as you all have an equal say in decision making and how things are done - where democracy really does rule?
In today's fascinating interview with Tru, we hear about her role as a member of a co-operative organisation which sells wholesale food, and about the realities of working in this unconventional way.
A huge thank you, Tru, for giving us a glimpse into the benefits and drawbacks that your work situation brings. I've certainly learnt a lot from your interview, and I'm sure others will too.
---
So, briefly, what is your job?
"I work for a vegetarian & wholefood wholesale company (www.lembas.co.uk). We are a worker owned, co-operatively run business. My main duties are in the Bagging Department. Basically, I take things out of big bags and put them in to smaller bags but I have to make the decision each day as to which products need bagging down and in what quantity.
I also do some of the buying, which involves contacting our suppliers, getting quotes and deciding how much to buy. Plus, I'm also one of the 3 Personnel Officers."
How did you get into it?
"Completely by accident! A couple of my friends worked there, when it was a much smaller business. One day, they were short of a driver, so they asked me if I could help out and 15 years later I'm still there."
Describe a typical day.
"I arrive at 8am and spend 10 minutes or so listening to the catalogue of complaints that my workmates have, usually about each other. I ignore them all, put the kettle on and unless my colleague, George, has already done so, I print out a "Bagging List" which shows me the current stock levels of all our commodities eg. Rice, lentils, porridge oats, dried fruit and nuts and I make another list of the things that need to be bagged that day. We generally then spend an hour putting away the bagging from the previous day and tidying the shelves.
(We are also open to the public and offer a Cash & Carry service so it's important that the shelves are kept well stocked as well as making sure that we have everything that is needed for the deliveries.)
After that we will pick the bulk that we need to bag down that day. The rice, pulses etc come in 25kg sacks and the fruit is usually in 12.5kg boxes so you need to have a bit of muscle to lug it all around. The rest of the day is spent bagging these sacks and boxes in to 5kg, 2kg, 1kg and 0.5kg bags, entering it on to the computer system, sealing the bags and printing labels."
What do you enjoy most about your job?
"Working in a business where there is no boss, where all of us have an equal say in how the business is run."
And the least?
"The cold. The warehouse is unheated so in winter it can get a bit nippy! I've invested in some insulated trousers and a proper ski vest this year and that's made quite a difference."
What are the common misconceptions that people have about the work you do?
"I think people might assume that working in a warehouse is a man's job and that being a co-operative is all fun and games."
What are the main skills you need for your work?
"Being neat and methodical helps, also basic IT skills, numeracy and a sense of humour.
To be a good co-op member you have to be able to listen to the opinion of the other members and give full consideration to those opinions before voting on an issue. You also have to accept a democratic decision once it has been made, even if you personally voted against it. You have to put the interests of the business first and accept that sometimes you will have to work longer, harder and for less financial reward than someone in a more conventional job. But you need to remember that the business belongs to the co-op members and it is they who will enjoy the benefits of that hard work in the long run.
You also have to be able to take responsibility. There is no boss or manager to sort out all those problems; it rests equally with all the members to ensure the business runs as smoothly as possible."
Tell us a little about the benefits that come with the job.
"We can only afford to pay ourselves £8 per hour at the moment but that is offset by the fact that there is no dress code (a lot of us have tattoos, piercings and interesting hair!) we have a generous holiday allowance, flexible hours and we get a lot of free or cheap food."
What advice would you give someone wanting to break into this career?
"I wouldn't call working in a warehouse a career exactly, but I think it's the nature of the business that's interesting. I would recommend working in a co-operative of any sort, it's very rewarding and whatever the nature of the business it's "people" skills that make you a valuable co-op member."
Where do you see yourself in 10 years' time?
"Eek! Not still putting things in bags I hope! We have grand plans to expand the business in the future and hopefully separate the warehouse from the cash and carry side. If that happens I would like to see us open a café on site too and I would run that. Then I could spend my days cooking, drinking tea and gossiping. Heaven."
AND JUST FOR FUN…
First in the office or last to leave?
"Neither - arrive promptly, leave promptly."
Tea or coffee?
"Tea."
Staff canteen or packed lunch?
"Packed lunch."
The lift or the stairs?
"Neither are applicable."
Out after work or straight home to bed?
"Out, usually to the gym or yoga."
---
Momentum Careers Advice is based in Welwyn, Hertfordshire, local to St Albans, Harpenden, Hatfield, Stevenage and Welwyn Garden City, but can provide careers advice, guidance and support via Skype, across the UK and beyond