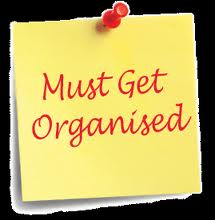 Welcome to this week's 'The Monday Interview'.
I'm doing something a little different this week. I usually try to space out interviews from different industries so that readers get a nice spread of case studies. However, last week I featured an interview from a hotel events manager and I thought it would be interesting to run a similar interview back to back so that you are given an idea of the various settings in which jobs take place, and the differences these may make to the work that you do. (It's important to remember that making the right career choices isn't just about getting the job right - it's about getting the employer right too and working in an environment that brings out the best in you).
This week's contributor is Bridget, an experienced Accounts Director for an Events Production Agency. Her interview gives us a great realistic view of the benefits and drawbacks of working agency-side in the events industry as opposed to an in-house role. If you are an expert organiser and thrive on pressure, this could be a great career choice for you!
Thanks, Bridget, for providing such an insightful look into an exciting industry.
---
So, briefly, what is your job?
"I'm an Account Director for an Event Production Agency. It involves looking after key clients and their plans for their conferences, as well as their communication plans for the year. I manage team of project managers whose job is to be the hands on delivery people of the event. My job is to deliver the creative vision for the event and to be the budget holder. Corporate clients include pharmaceutical, financial, logistics etc."
How did you get into it?
"I kind of fell into it I suppose. I came from a hotel background (my parents both worked in this industry) and was always organised and good at juggling lots of things at once. I started in the business long before there were university qualifications in the subject and actually, when recruiting, never really found that anyone who had an official qualification was any better than those who were 'right' for the job."
Describe a typical day.
"There's no such thing really! One day can be office based, reconciling budgets and doing research on future events, another can be spent trying to find a bunch of sumo wrestlers who fancy some corporate work, and another travelling to the other end of the country for a 30 minute meeting with a client. When a job actually takes place it can be 18 hr days managing a large crew of both technical and logistics staff, looking after clients, dealing with venue problems and delivering a live show."
What do you enjoy most about your job?
"The delivery of live events, wearing a set of headphones and having a 30 strong crew waiting on your every word to run a video, do a light show, change microphones - did I say I was a bit of a power freak? The adrenaline of the sheer terror of some events, that it all lies on you and trying to stay awake when you're operating on 2 hours sleep!"
And the least?
"Travelling home after an event. You are so tired you are punch drunk. The initial high of a completed event wears off pretty quickly when you're stuck in a traffic jam on the M6… That and the admin. Oh… the admin, but I suspect that I would suffer that whatever job I do!"
What are the common misconceptions that people have about the work you do?
"That it's a glamorous job full of high living and first class travel. Yes, you get to go to some amazing places and stay in 5 star luxury. In reality, unless you get really lucky, you rarely see outside of the conference room so you may as well be in Warwick!"
What are the main skills you need to work as an events organiser?
"Organisation, multi tasking, the ability to work fast and under pressure, the ability to think creatively when it all starts to unravel and you have an unsuspecting client making their way towards you! A fairly thick skin - as an agency you will be the whipping boy when the client messes up. Also, the ability to go long hours without a square meal and to be able to operate sharply on little sleep."
Tell us a little about the benefits that come with the job.
"It's an interesting and varied job - nice hotels, venues, meeting and working with celebrities (my favourites: Roger Black, Kriss Akabussi, Diversity, Fiona Bruce). It is reasonably well paid - less so if you work outside London (it's a very London centric industry)."
What advice would you give someone wanting to break into this career?
"Don't wait for job adverts - they are few and far between. Be prepared to go in on short term contracts / maternity cover. I started with a 6 month contract and stayed for 17 years! Be prepared to do the leg work - there is quite a strict hierarchy and to get promotion you need to have done the whole job. Always be prepared to stay a bit later, do a bit extra. The job will never adhere to 9 to 5."
Where do you see yourself in 10 years' time?
"If I were to stay in events it would be managing my own company. 17 years has brought me to next in line to the MD. It's a hard job though - one that doesn't lend itself particularly to family life unless you have a very understanding partner."
AND JUST FOR FUN…
First in the office or last to leave?
"Last to leave."
Tea or coffee?
"Coffee, but rarely. Diet coke preferred."
Staff canteen or packed lunch?
"Packed lunch."
The lift or the stairs?
"A lift? What luxury! Stairs only."
Out after work or straight home to bed?
"Straight home to bed - socialising after work usually done on site at jobs if time allows…."
---