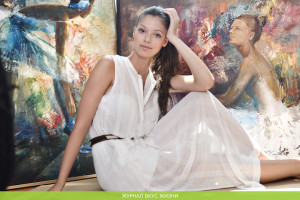 Welcome to this week's 'The Monday Interview'.
I'm really excited to bring you this week's interview, for so many reasons. Not only are we coving a career area that so many would consider their 'dream' but we are getting to showcase someone who has managed to grab life by the horns and achieve incredible things at a young age. How many people do you know who have managed to turn their hobby into a career? And how many have done this whilst still in their teens, whilst juggling the demands of A-levels? Today's interview is proof that this is really possible.
Introducing Valeria Duca - a young lady with a real talent and a great role model for young people everywhere. At just 18 years old, Valeria is already established as an international artist, having been involved in over 40 exhibitions. Scroll down and you can view some of her paintings. In her interview below, we hear how she fits her painting around her school work and we get a sense of how much she enjoys the freedom that a career as an artist brings her.
Thanks so much for your interview, Valeria. I'm sure I won't be the only one reading it with a pang of jealousy for the creative talent that you have!
---
So, briefly, what is your job?
"I am a painter. I take part in exhibitions and organise personal exhibitions. You can have a look on my website to get an idea of the kind of art I do: www.valeriaduca.com"
How did you get into it?
"I started to paint about 8 years ago while I was still in school in Moldova. I remember I used to draw caricatures and cartoons that I saw on TV when my parents noticed my work and decided to take me to art classes. At first it was a hobby, but at 13 I had my first personal exhibition of which I was really proud. Everything escalated really quickly and now I can say that I have taken part in about 30 exhibitions around Europe and had 13 personal exhibitions."
Describe a typical day.
"As an artist I have a really free schedule and I have time to combine it with my normal school lessons. My day starts at 8:45; however I get to go in the art studio when I have my free periods. After I've had my lunch with my friends, I spend my time sketching and painting while listening to Alice's or Rhys' relaxing music in our art studio. There is always a "colourful mess" in our studio that creates an atmosphere of escape from the daily routine. At 2:25pm I finish painting and get back to my lessons, but only to come back to painting later. Normally, my day finishes at 5pm but this often changes."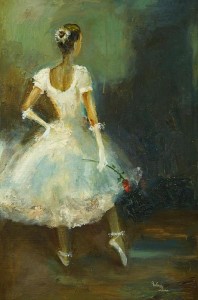 What do you enjoy most about your job?
"Freedom. Not only the freedom of my working hours, but the freedom of being myself. As a painter, I don't consider art a job at all; it's more like a necessity and a way of life."
And the least?
"The lack of inspiration. Although is not frequent, it is part of the process. It can be quite off-putting sometimes but one has to learn how to deal with it."
What are the common misconceptions that people have about the work you do?
"That artists are extremely eccentric bohemian people whose input into daily life is minimal. I strongly disagree with this and I think all you need is a look around to realize that art is in the most surrounding objects: not only the traditional paintings and sculptures, but also the design of the chair you are sitting on, the colourful mug you are drinking coffee from, your watch, your clothes, the illustrated books you bought for your children and the happy birthday card you've received this year… I believe in beautiful art and, surprisingly, in spite of its lack of practicality, this type of art is present all around us."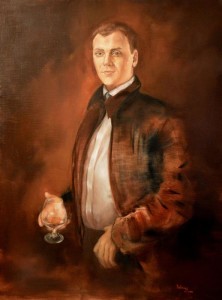 What are the main skills you need to be an artist?
"Creativity, inventiveness, but also the awareness to select the moments worth recording. Contrary to the modern belief, I think that technique is as important as the message that you aim to convey."
Tell us a little about the benefits that come with the job.
"The biggest benefit is that you are your own boss. It depends on you as to how much you want to work and earn. However it's more than certain that working and earning are directly correlated, at least at the beginning of your career."
What advice would you give someone wanting to break into this career?
"To paint something you truly believe in. I think that the art world may be very hard if you do not know who you are and what you have to say. But then, wouldn't life in general be very hard if you didn't know who you are and what you have to say?"
Where do you see yourself in 10 years' time?
"Painting and having exhibitions - the same thing I do now, just on a much bigger scale."
##AND JUST FOR FUN…
First in the office (studio!) or last to leave?
"Last to leave. My brain works better in the evening."
Tea or coffee?
"Hot chocolate. With cream and marshmallows."
Staff canteen or packed lunch?
"Staff canteen."
The lift or the stairs?
"The lift."
Out after work or straight home to bed?
"Depends who's going out."
---
Momentum Careers Advice is based in Welwyn, Hertfordshire, local to St Albans, Harpenden, Hatfield, Stevenage and Welwyn Garden City, but can provide careers advice, guidance and support via Skype, across the UK and beyond