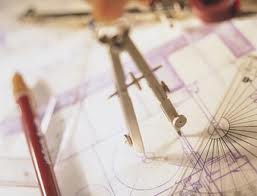 Welcome to this week's 'The Monday Interview'.
Do you have creative flair and an eye for detail? Are you able to work precisely and technically, whilst communicating effectively with people at different levels? Are you looking for a career which allows you to see something through from planning to creation? Then perhaps architecture could be the career for you.
Today's interview is brought to us by Laura, who has been through the gruelling 7 years of training that it takes to qualify as an architect, and lives to tell the tale! She gives a fascinating and very honest account of the profession, and has some clear views on what rewards you can (and can't) expect to gain from this commitment to study. In fact, this interview is an eye-opener to the huge breadth of skills that are needed to work within this industry.
As ever, I am very grateful to my professional contributors to this blog series. Thanks very much Laura for sharing your thoughts, and experiences, with us.
---
So, briefly, what is your job?
"Architect - responsible for the design, co-ordination and project administration required in order for a building to be built. I can work in all sectors from house extensions to new airports. I'm currently working on a new college for students with special educational needs."
How did you get into it?
"I came to the profession slightly older than most, but generally the route is the same - it's a lot of years studying!
All in all, it takes a minimum of seven years to qualify following A-levels. First it's a three year degree (Part One), then a year's placement in an architect's office. After this there's a further two years at university (Part Two). Following this, at least another year working and then a final exam and/or interview (Part Three). It is possible to gain the qualifications through working or enter the profession from elsewhere, such as interior design, but this takes longer.
Finding a work placement and an office to get the experience to do your Part Three is down to the individual - there is no guarantee that you will find work on completion of your degree, especially during a recession.
Once qualified, architects generally move up from a supporting role with the team to a leading role as project architect. A lot of architects set up on their own or in a partnership. At bigger firms you can move on to become an associate and then director."
Describe a typical day.
"A typical day is pretty varied, and it depends on the stage of the project. About 25% of my time is out of the office, at client meetings / consultant (ie engineer) meetings or on site.
Some time is spent doing presentation work and preparing drawings for planning / tender / construction. There is time spent designing the building, but less of this than most people imagine. I'd say maybe 10% of the time is spent working out a design, and then another 30% of the time drawing it up.
The rest of the time, and probably more than most architects would like, is spent answering emails and phone calls, planning what needs to be done and who needs to do it, dealing with requests and queries from the client, consultants, suppliers and contractors and dealing with the paperwork associated with planning, building regulations, the building contract, etc."
What do you enjoy most about your job?
"Seeing an initial sketch or idea being developed into a building that other people use and (hopefully) enjoy is very rewarding. The opportunity to be creative and use that to have a positive impact on someone else's daily life is great. I don't think I can over-emphasise how good a feeling this is.
It's one of the best jobs for physically seeing the results of your work.
The variety of the work, and the different people you get to meet and work with. Also, the requirements and the way things get build are constantly changing, so the job is rarely boring.
The scale of things you have to think about, from how the building will fit in as part of a city, to the right kind of tap for a sink."
And the least?
"The financial reward in relation to the amount of stress / responsibility. Generally the responsibility is a positive thing, but sometimes as the lead consultant a lot of problems come back to you. Part of the reward is in dealing with this, but it can be stressful.
The construction industry is traditionally badly affected by a recession, and this one is no exception.
The amount of deadlines to get a proposal in for planning / tender / construction.
There's always the possibility you might be involved in the design of something you don't like and have to walk past it for 30 years… (but equally you might love it!)"
What are the common misconceptions that people have about the work you do?
"That it's well paid - in comparison to most other professions it's one of the lowest paid.
That we spend all our time making things look pretty and choosing colours. There are a whole load of things that need to be considered for every decision - whether a part of the building will work / how it will affect other parts of the building / is it appropriate for building regulations / is it affordable / is it buildable / will it look good / is it safe / will it allow the structural engineering and M+E engineering proposals to work / will it wear well etc etc etc… On top of that there's a whole load of administration and box ticking to do, and a lot of discussions and negotiations with statutory bodies, clients, consultants and contractors."
What are the main skills you need to be an Architect?
"Design flair, organisational skills, interest in how things are put together, good communication skills with people from all walks of life, diplomacy and negotiation skills, good written skills and drawing skills. Attention to detail and thoroughness."
Tell us a little about the benefits that come with the job.
"I wouldn't recommend this as a career for its financial rewards. Architects are badly paid (for professionals), few have perks such as pensions, company cars etc, the hours can be long with unpaid overtime, the training is long and, with tuition fees increasing, more and more expensive.
The benefits come from seeing something you drew on paper a couple of years ago physically manifesting themselves. The amount of different people you meet and the variety of the work is good. The satisfaction of leading a team to get a building built is also a benefit.
Generally, most architects are passionate about what they do, and it's nice to be surrounded by people like that.
Being taught how to think creatively and developing an eye for design is a skill most people don't get a chance to develop, and is quite liberating."
What advice would you give someone wanting to break into this career?
"Seriously consider the financial implications of choosing this career. You have to really want to do it, to get through all the stages of the training.
I'd recommend getting some work experience and visiting an architectural department at a university. Go out and visit buildings that you like, such as at Open House Week: http://londonopenhouse.org/
Develop your drawing skills and presentation skills. A lot of people study maths and physics, and while useful to get some understanding of structures, I'd say a social science such as geography or psychology might be more useful - to get an understanding of people and develop written skills as well."
Where do you see yourself in 10 years' time?
"Hopefully I will have set up my own practice by then. I would hope to have settled down and started a family - although will need to consider how the deadlines / leadership requirements of my job will fit in with this!"
AND JUST FOR FUN…
First in the office or last to leave?
"Both."
Tea or coffee?
"Tea - milk, no sugar please."
Staff canteen or packed lunch?
"Pret."
The lift or the stairs?
"Lift up, stairs down."
Out after work or straight home to bed?
"Out after work, unless there's a client meeting in the morning."
---