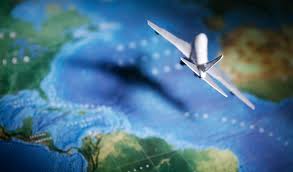 Welcome to this week's 'The Monday Interview'.
With Christmas behind us and winter well and truly upon us it can be a miserable time of year. If you are anything like me you are thinking of summer holidays (yep, got mine booked already!) to get you through the next few months. So I thought that now would be an appropriate time to focus on the realities, and indeed the scope, involved with working in the travel industry.
And it isn't all about working as cabin crew, travel agent, and holiday reps. Behind the scenes lie a whole host of commercially focused roles that help keep the industry buoyant and lucrative. Today we will be focussing on one of them. This week's contributor, Michelle, did indeed start off her career as a travel agent, but today she can be found working closely with corporate clients as an account manager for an airline. We learn from her interview just how important relationship management and customer service are to her role, along with the ability to negotiate and sell.
Thanks so much for your enlightening interview, Michelle. I am aware just how limited a view many people have of the jobs available within the travel industry so it is great to be able to provide a case study that should help to change this.
---
So, briefly, what is your job?
"I'm a Corporate Account Manager for a major international airline.
I am responsible for a number of corporate accounts ranging from small local businesses that may spend £50k per year up to investment banks with a global spend of over £50million. My role involves maintaining strong relationships with those corporate accounts creating value for the client, long-term profitability, and account retention by offering appropriate discounts based on their travel policy, travel patterns and volume.
This includes quarterly reviews with both the corporate client and their designated travel agent to ensure that revenue and market share targets are being met.
I take full responsibility for the contract renewal process from negotiating the air fares right up to training the corporate travel agency on the details of the new deal as well as organising communication and marketing plans to the corporate travellers in conjunction with the corporate travel management team.
And lastly, although it's not part of my role, as I (and the rest of my team) have airside passes for Heathrow, we assist at the airport during extra busy times, usually when a high volume of flights are cancelled due to weather or other circumstances."
How did you get into it?
"I've wanted to work for an airline since I was very young. When I left school I got a job as a travel agent in order to get some experience in the travel industry.
After a couple of years, I started writing to airlines and was offered a job as a reservation agent for a U.S airline. I worked my way up from Reservations to the ticket office, then supervisor of the ticket office and then manager of the off-airport check in at Victoria station.
I then moved to the Sales team and became a corporate account manager before being head hunted by a client to work on their travel team. I didn't enjoy that side of the business and am now back working for an airline."
Describe a typical day.
"I'm not sure there is one!
Today, I had a review meeting with a client which included negotiations for their new contract as their current deal expires at the end of the month.
After that I became involved in a technical pricing issue where the travel agent is unable to see the corporate fares for a client. This is an ongoing problem so it's been escalated to a technical team as no one seems to be able to correct the issue and it's not affecting any other client.
I took a phone call from a Travel Manager at an investment bank asking if I could confirm a first or business class seat to Hong Kong for a senior member of the board at the bank. The flight is completely full and the passenger is on a waitlist. I sent a message to our Revenue Management dept to see if they will confirm the seat. Due to the time difference I'll need to wait until the morning for a response.
Lastly I completed my monthly report which included last month's spend for all my accounts, year to date spend and comparison against last year. Any issues or problem that I am having are also highlighted in this report as well as any achievements such as signing up any new clients.
This is sent to my manager as well as other senior managers in the Sales and Marketing depts."
What do you enjoy most about your job?
"The variety, the flexibility, the challenge of chasing and winning new business and the relationships that I develop with my existing clients.
The airline industry is constantly changing and I love being part of it."
And the least?
"The paperwork and admin!"
What are the common misconceptions that people have about the work you do?
"I'm not sure.
There used to be a perception that working for an airline was glamorous but I'm not sure that that is the case anymore.
Most people outside of the industry don't really know that my role exists. When I say I work for an airline, I usually get asked if I am a flight attendant!"
What are the main skills you need to work as a corporate account manager?
"The ability to negotiate and sell, good customer service skills, time management skills, commercial awareness and the ability to do 3 things at once.
Experience of the travel and/or airline industries is important."
Tell us a little about the benefits that come with the job.
"You won't get rich working for an airline but you will get cheap travel. Unfortunately this is on a standby basis and you do have to pay the taxes which are expensive but it's the main benefit of working for an airline.
Most airlines will offer a pension, health insurance and profit sharing schemes."
What advice would you give someone wanting to break into this career?
"Corporate Account Managers are either recruited from within the airline or from another airline. It's unlikely to join an airline in this role with no relevant experience.
Revenue Management, reservations or airport operational experience is especially useful so I would advise someone to be prepared to start in a relatively junior role."
Where do you see yourself in 10 years' time?
"On a beach after winning the lottery!
Failing that I would still like to be working in the airline industry but not sure what sort of role."
AND JUST FOR FUN…
First in the office or last to leave?
"I work from home - so both."
Tea or coffee?
"Coffee in the morning, tea in the afternoon."
Staff canteen or packed lunch?
"Working from home means I can have whatever I want."
The lift or the stairs?
"Stairs."
Out after work or straight home to bed?
"Depending on my mood or what is going on, either."
---