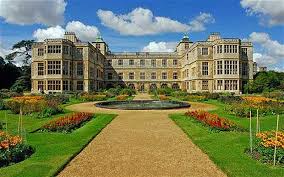 Welcome to this week's 'The Monday Interview'.
As a careers adviser, I see lots of jobs come in and out of fashion - it's an evolving landscape that changes over time. The heritage sector is certainly an area that I have seen increase in demand from job-seekers over the last decade or so as clients are drawn to the idea of working in historic and beautiful surroundings, in spite of the relatively low pay that the sector is known for.
For the reason of its popularity therefore, I am delighted today to be able to bring you a real-life account of working within this sector. Is it as glamourous and relaxed as it sounds? Or is the reality of being on your feet all day whilst dealing whilst providing customer service to over 1500 visitors less so? I'll let you read Jennifer's account of her own career as a visitor reception assistant, and let you decide for yourselves!
Thank so much, Jennifer, for sharing your story with us :)
---
So, briefly, what is your job?
"I work as a Visitor Reception Assistant for the UK's biggest heritage charity, The National Trust. I sell tickets for entry and also memberships to the charity. I am also there to answer questions and give people help and directions. The biggest aspects of my job are customer services and sales, so cash handling and paperwork are big parts of that, but I also help out with events and the general day to day running of visitor reception and the car park areas.
Alongside my paid role, I also do a voluntary role. I recruit new volunteers for our property and do as much of the administration for our small recruitment team as possible. That largely consists of paperwork, interviewing potential volunteers and keeping the staff up to date with our progress."
How did you get into it?
"I have always wanted to work in heritage and set out from early on to get into this career. I have a degree and a Masters' degree in history, but that isn't really necessary for my job at the level I am currently at. Because of the nature of the work, good maths and English skills are necessary, as is the ability to talk to people and sell confidently. Good work experience will also help so if you have customer service or retail experience that will be useful. Most of my previous work experience was in customer services and retail which helped me to build up my skills. My colleagues working in the same job have a vast array of experience, from working in a wine merchant to advertising to being in the RAF. Confidence and people skills are most important.
For my volunteering role there were no qualification specifications and I was offered the role simply through my enthusiasm. I have brought my own skills to the role and training and help is provided to adapt what skills you already have."
Describe a typical day.
"In visitor reception a typical day starts with collecting the cash floats, building keys and paperwork needed throughout the day, such as membership forms. We are given a daily sheet to let us know if we have any events on, what talks and tours taking place, coaches or parties expected and which key members of staff are on site all day.
We have to count the floats and put out our signs when we arrive at reception, as well as doing a cursory check over of the building and car park for any problems that could stop us opening up. Through the day we keep an eye on the car park and make the decision about whether we need to open the overflow car park. We are responsible for security at the entrance to the estate and need to make sure that all gates and doors are unlocked ready for opening time.
The number of visitors we have on any particular day can vary depending on the day of the week and also the month of the year. The weather can have a huge impact on how many people we see through the doors. Sunday is our busiest day of the week and the house, park and gardens are all open. During the summer we might have 1500 visitors or more in one day. It is our job to sell tickets to these people, check in those visitors who are already members and try to 'convert' people from payers to members. If we are selling a membership we have to fill in a membership form, and also present the new member with information about what we do with the money and what they can do with their membership.
We also answer questions, and not just about our own estate. We are also expected to have knowledge of most of our neighbouring estates and also need to have knowledge to hand on various membership topics. On a typical summer Sunday we could expect to sign up 10 new members, answer questions on our neighbouring properties, tell people about everything we have going on at our own property and give directions for the local area.
Throughout the day we are responsible for checking that people do not enter the estate without buying a ticket or presenting a membership card and we try our best to see everybody. We are also responsible for the health and safety procedures in our immediate area.
At the end of the day we are responsible for our own cleaning and tidying, as well as keeping our reception stocked with necessary materials such as maps, guide books and membership packs. Typically one person will clean whilst another person balances the tills and counts the day's takings. We need to lock the gates at closing time and bring all of our signs in, and then we head back to the main property to post our takings and paperwork for the day. It can be a long day being on your feet and constantly talking but we meet a lot of very lovely people and it is always lively and fun in our reception area."
What do you enjoy most about your job?
"I enjoy meeting the visitors and talking about a wide range of topics. I also really love working in such a beautiful place and with a really lovely team."
And the least?
"The days can be long and tiring, especially when you are on your feet all day. Some days you have customers who are upset or grumpy, and like in any customer service role it can be challenging. The trick is not to take to heart whatever they say to you."
What are the common misconceptions that people have about the work you do?
"People assume that I take commission for the membership sales I do which is not at all true. 100% of the proceeds go back into the charity. People also assume we are out to sell to them and get as much money from them in any way we can. On the contrary we are just trying to support the charity and be nice to people. The biggest part of my job is providing a good service for our customers and members."
What are the main skills you need to work as a visitor reception assistant?
"I believe there are two sets of skills you need to be a Visitor Reception Assistant. The first set is about running an efficient reception and sales area. If you are able to sell to people that is highly useful as it is one of the biggest aspects of the job. Good English and maths skills are absolutely essential. You also need to be able to work as a team, as most days you will be working with other people in a close environment. Being able to support each other and work well together can make the difference between a successful sales team and a team with low sales scores.
The second set is all about how you deal with the public. Friendliness and being able to build a good rapport with people are essential. Enthusiasm and a sense of humour help and can sometimes be what gets you and your team through the day. You often see thousands of people every week and you want everyone to go away thinking you have been kind and polite to them. Providing good customer service is an important step in creating a good experience for the visitors."
Tell us a little about the benefits that come with the job.
"As I work for a charity obviously salaries are never very high. However, there are fair amounts of holiday which are tallied up against your contracted hours of work and if you work bank holidays, they are also added to your holiday allowance. As a member of staff I also have a staff card which allows me to go into any property for free and take a guest with me and also gives me 20% off in the shops and restaurant. I can also use that discount to buy memberships for myself or as a gift and also for the National Trust holiday cottages. My management are also very good with flexibility if you need time for doctor appointments or holidays and we get time in lieu if we attend meetings outside our normal working hours."
What advice would you give someone wanting to break into this career?
"The heritage industry can be really difficult to break into so having some sort of relevant experience or a qualification helps. In the job I do now qualifications are not too important but other types of jobs need specific qualifications so it is best to research that before you apply.
Relevant experience is very important, no matter what level you are aiming for in the trust. I've also found that once you are into the trust you have a better chance of moving upwards so don't be afraid to go for some of the other jobs or even volunteer to expand your skills and show you are capable of working in the heritage industry."
Where do you see yourself in 10 years' time?
"My plan for my career is to move upwards in the trust and hopefully work in property management. I plan to apply for jobs that will move me up the scale, using my job now as my starting base. I am currently volunteering as an administrator to expand my skills set and I hope that in the future it will allow me to demonstrate that I have relevant experience.
I really love my job meeting visitors so hopefully I will be able to continue with the visitor experience aspects of the job."
AND JUST FOR FUN…
First in the office or last to leave?
"Neither really as my hours of work mean there is always a manager there before and after me. But if I'm the one working a full day in reception I'm often late leaving. I like to chat to the others in the main office before I go home."
Tea or coffee?
"Tea, but the UHT milk we get is rubbish so I often have a hot chocolate instead."
Staff canteen or packed lunch?
"Packed lunch. Our reception building is a long way from the main office and so half my lunch time would be gone if I went to the house for my lunch."
The lift or the stairs?
"We only have stairs!"
Out after work or straight home to bed?
"Straight home most of the time. Its tiring being on your feet and talking to hundreds of people all day."
---
Momentum Careers Advice is based in Welwyn, Hertfordshire, local to St Albans, Harpenden, Hatfield, Stevenage and Welwyn Garden City, but can provide careers advice, guidance and support via Skype, across the UK and beyond