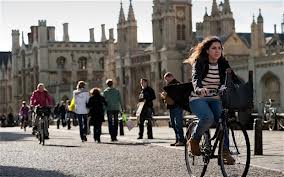 Welcome to this week's 'The Monday Interview'.
As someone who has largely developed their own career through the education sector, I am extremely aware of the wide-ranging opportunities that it has to offer. And yet, as a careers adviser, I know that not everyone is. Unless you are heading for a career in teaching or lecturing, then it is rarely one of the first employment areas that people aspire to.
But universities and colleges are huge employers, offering pretty much the full range of administrative and specialist professional roles - from student admissions, to marketing, to facilities and finance - all of these elements (and plenty more) are necessary to help educational institutions operate successfully and profitably. And as a workplace, they can offer a slightly more laid back working environment to some of the more corporate alternatives.
Today's contributor is Mandy. She explains to us how her background in administration first led to a temporary opportunity at a local college. From here, and as is so often the case, her career has developed almost accidently but in the process she has carved out significant professional expertise in the area of Student Services, which she clearly loves.
Thanks so much for sharing your story, Mandy.
---
So, briefly, what is your job?
"I'm Head of Student Services at a brand new Higher Education Institution (www.ucfb.com). I manage a team of 13 including an accommodation manager, IT technician and football coach. Basically anything not academic or marketing based comes under my wing."
How did you get into it?
"I had always worked in administration or IT, but at the age of 31 I found myself unemployed and was offered a temporary job at a local College. I was placed in Student Services and started to help with giving low-level advice. I found that I enjoyed it, and was also rather good at it. As time went on I went on a million training courses and worked with the senior advisers. Two years later I was in charge of a team of advisers and went on to create a brand new team of higher education advisers for the college as they were setting up a HE course. Out of the blue I got a phone call from an agency about a new university in my area, would I like an interview? Six weeks later I started here."
Describe a typical day.
"No such thing! I come in around 8 and make sure that facilities have made the building look good. My office door is open to students all day so I may deal with student funding problems, housing issues, or broken hearts. We have a very small number of students (under 200) so we know them well. I am a senior manager so I often deal with staff complaints and recruitment, and I also liaise directly with the Board to discuss any issues or needs to additional staffing."
What do you enjoy most about your job?
"I love the students, I know them well and they know that they can talk to me about anything. We offer degrees in football business so everything here is about football and who you support - the banter is great. I work at a football club and the views are amazing. My team are great and I genuinely d feel that we're making a difference to these students."
And the least?
"I'm not a great spreadsheets person and a lot of my job is reports and backing up data. I'm thankful to have staff that are far better at this than me."
What are the common misconceptions that people have about the work you do?
"People assume that working with students is pointless, when actually what we are doing can really positively affect a young person's life. Some people would also consider it dull - as we are currently very small, this could not be further from the truth!"
What are the main skills you need to work as a Head of Student Services?
"Patience, good communication skills, empathy and a certain amount of street wisdom as some students do try to play you! I also make sure that I know the legal stuff (council tax etc) backwards so that I can advise properly."
Tell us a little about the benefits that come with the job.
"I earn a less than average salary for this position as we are still a start-up and this is a huge leap for me in terms of management. However my employer has paid for me to complete two ILM courses and will be paying for my Masters, and I get free football tickets. My employer also pays all of my travel expenses and I am disabled and need assisted transport to get to and from work."
What advice would you give someone wanting to break into this career?
"There are many jobs where you can work with students or move into advice and guidance roles, and the best advice I can give is to be really tenacious in terms of you advice and people skills. Get these right and you will enjoy your job far more."
Where do you see yourself in 10 years' time?
"I hope to be in the same role at a bigger HEI, although we will expand to the South East and Scotland so I may move with the same position and open up new branches. I would love to still be working with students."
AND JUST FOR FUN…
First in the office or last to leave?
"Both! I get in at 8am and leave after 5, I am usually turning the lights on in the morning and off at night."
Tea or coffee?
"Uuurgh neither! Water all day."
Staff canteen or packed lunch?
"Staff canteen, our refectory makes the finest paninis."
The lift or the stairs?
"Lift, I'm afraid."
Out after work or straight home to bed?
"Ten years ago I would have gone out all night, but now I need to head home and switch off."
---