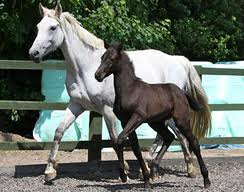 Welcome to this week's 'The Monday Interview'.
There are always going to be people who are able to make a career out of a hobby or interest that they really love. And today we hear from one of them.
Jill is this weeks' contributor, and we hear how her love of horses has enabled her to develop a career as a stud farm manager. But, of course, there is much more to her job than just a love of horses, for Jill provides a great case study of someone who has also had to learn a whole multitude of business skills along the way in order to make a success of what she does.
It's always great to be able to share stories of the more alternative career choices that exist out there. Thanks so much, Jill, for sharing your own career journey with us.
---
So, briefly, what is your job?
"I run a stud farm breeding and producing dressage horses www.scstud.com. My job involves liaising with people a lot as well as the horses. We have around 75 horses, around half of them are in Germany. We employ 7 people and have various subcontractors (people who look after, ride or train our horses generally). We are a VAT registered company so we have also had to learn about that as well as payroll and employment law."
How did you get into it?
"We started the business ourselves as a way of funding my own competition horses initially. I have had horses for over 20 years and both my degree and Masters degree are related to what we are doing now. For example I covered all aspects of physiology and reproduction in my first degree, this gives me a good basic knowledge when talking with vets etc."
Describe a typical day.
"No two days are the same! In a typical week I would spend time in the office replying to enquiries from clients and preparing documentation for the accountant, accompanying the horses when out competing or taking a horse to the vet hospital, showing horses to clients or making and editing a video for them, visiting the horses we have off site to see how they are progressing or moving horse between sites. Depending on the time of year I also spend a lot of time visiting and choosing stallions for my mares."
What do you enjoy most about your job?
"My favourite things are seeing the foals when they are born (healthy) and watching a horse progress. It is great when we have success at competitions etc. It is equally lovely when they have success for their new owners. We get to meet so many interesting people through our work and last year were lucky enough to host two of the Olympic horses.
And the least?
"Losing any of the horses, or seeing them ill is awful. We had our first still born foal in 2011 and it was horrendous, just so sad. The mare is pregnant for 11 months but I will have been planning the match with the stallion long before then, so there is a long time for all your hopes and dreams to build. When this is brought to an abrupt end it is devastating.
What are the common misconceptions that people have about the work you do?
"That it must make lots of money! That horsey people are posh. That it is easy to breed a good foal."
What are the main skills you need to work as a stud farm manager?
"You will need a good basic knowledge of horses, breeding and be prepared to do a lot of research. I have had to learn new skills such as managing staff, sales techniques, book keeping and even web design."
Tell us a little about the benefits that come with the job.
"The financial benefits are so variable from one stud farm to the next that it is impossible even to give a ballpark figure. The non-financial benefits, however, include things like working outdoors in the summer, having such a varied job and not just sitting behind a desk each day. Meeting lots of interesting people would be high on the list too
Also, I have two very small children and I can usually work around their needs and they can often come to work with me, so flexibility is a massive plus."
What advice would you give someone wanting to break into this career?
"If you can, get as much experience from others as you can. Work for a stud and see if that is what you want to do. You will need good knowledge of what you want to produce, so for example if you want to breed an Olympic dressage horse do you have a true understanding of what qualities that horse will need. Spending time with riders and trainers of that calibre is just as important as the breeding work.
Where do you see yourself in 10 years' time?
"Our aim is to be one of the best studs in the UK. In 10 years' time I would hope that we would have had some of our horses reach Grand Prix and I would like to have bred a successful licensed stallion."
AND JUST FOR FUN…
First in the office or last to leave?
"Depends upon the day of the week."
Tea or coffee?
"Tea in the morning, coffee in the afternoon."
Staff canteen or packed lunch?
"Usually a sandwich on the run."
The lift or the stairs?
"Stairs."
Out after work or straight home to bed?
"Out - babysitters allowing."
---