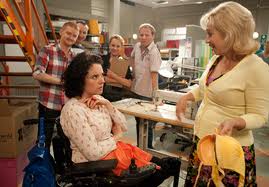 Welcome to this week's 'The Monday Interview'.
Today's case study is a brilliant example of someone who has succeeded in using their skill and creativity to turn a hobby into a profession.
Say the word "seamstress" and I imagine most post people will think immediately of the Coronation Street factory girls, gossiping their way through the working day until after-work drinks at The Rovers. It may not be the most contemporary of professions, with an image to match, and today's contributor, Rachel, is the first to admit that it is sadly a dying art. However, her interview sheds a new perspective on the job. Far from spending her days completing repetitive tasks in a noisy factory, with a tyrant boss barking orders on targets and deadlines, Rachel is her own boss, working independently and creatively to suit her needs. In doing so, she has managed to do what thousands haven't - work her job successfully around the demands of a young family. Respect.
So if you are one of those people lucky enough to have a creative eye and a natural talent, this interview may just provide you with the inspiration you need to turn your craft into a money-maker. Thank you so much, Rachel, for sharing your story with us.
---
So, briefly, what is your job?
"I am a self-employed seamstress. I make, alter and repair anything from soft furnishings to clothing- even underwear!."
How did you get into it?
"I started making items of clothing when I was about 8 years old. I can remember the first thing I made. It was a straight skirt that was white with rainbow stripes in the fabric and an elasticated waist. My Mum did dressmaking as a hobby, and I sort of picked it up from her. By the time I was 19 I had made copious amounts of clothing, cushions, bean bags - even 3 bridesmaids dresses. I was an incredibly useful person to know at university - I had a sewing machine in my room. The amount of people I had knock at my door and say "I'm off to a formal in 15 minutes and I've just wrecked my outfit" - usually blokes, usually ripping the seams open on their jacket/trousers somehow. Very handy for getting your drinks bought for you all evening.
I did a degree in Linguistics at the University of Reading, and then went into Recruitment (was sold it as "like HR" it wasn't - it was sales), followed by 2 years in event management, followed by 6 months in marketing in the toy industry, and then 3 years in retail management. None of these really felt like "me". After having a career break to have children, it wasn't financially viable to pay for 2 lots of childcare on my salary, so I set up as a self-employed seamstress as I can fit it in around the children while my husband does the childcare."
Describe a typical day.
"Get up, settle the kids with their Dad, walk to the bottom of my garden, and begin sewing. I have a dedicated garden office for my workshop - this is vital as it means that I can just shut the door on something and leave it, rather than having to pack it away to keep the kids away from it."
What do you enjoy most about your job?
"The satisfaction of seeing someone like something I have made, and being able to say "hey, I did that!"
And the least?
"The communication via email with a lot of clients - it takes so much time away from actually doing the work. In some cases, the to-ing and fro-ing via email takes longer than the project itself! Also the loneliness- twitter is my office gossip."
What are the common misconceptions that people have about the work you do?
"Sometimes people don't realise that I am untrained in pattern cutting and drapery. I can make up someone else's pattern, and can customise it to fit, but I'm not up to the standard of a trained pattern cutter… yet! I am still learning."
What are the main skills you need to work as a seamstress?
"A creative eye and attention to detail. A certain amount of perfectionism. Confidence. The ability to visualise how a project will be when it is finished."
Tell us a little about the benefits that come with the job.
"I don't earn a lot, but what I do earn does not have to pay for childcare! It's a great flexible career if you have someone to look after the kids. If not I have to say it would be very, very difficult. Being able to mend stuff is a hugely underestimated skill. I'd have to work many more hours than I currently do to make ends meet, but as a bit of money for extras, it works out ok."
What advice would you give someone wanting to break into this career?
"It's a dying art. Think carefully before you turn a hobby into a career - funny now I think about it, I didn't realise I'd lose a hobby- I didn't do much else and have had to find something else to fill the void it left! If you are going to work whilst your partner looks after your kids, this massively cuts into time spent together as a couple and as a family."
Where do you see yourself in 10 years' time?
"I'd love to do a pattern cutting course with a corsetry specialism. Then I can make myself a corset and eat more cake. ;)"
AND JUST FOR FUN…
First in the office or last to leave?
"Last to leave!"
Tea or coffee?
"Tea."
Staff canteen or packed lunch?
"Packed lunch."
The lift or the stairs?
"Stairs. My garden is a hill - it's uphill from the office to the house."
Out after work or straight home to bed?
"Home to bed."
---