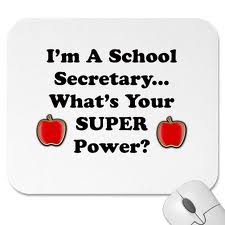 Welcome to this week's 'The Monday Interview'.
I'm filled with enthusiasm for this week's interview, as this week's contributor is clearly filled with enthusiasm for her job. It is great to be able to share a story with you from someone who clearly loves what they do for a living.
Are you a natural organiser, great at multi-tasking and ready to deal with whatever is thrown at you? Have you always wanted to work with or around children, but the idea of teaching has never appealed or never been quite the right choice? Perhaps you are a working mum, looking for one of the few jobs out there that works well (most of the time, at least) around school hours and holidays? Then please stay tuned and read on….
Today's contributor, Terri, explains how working as a school secretary can fulfil all the criteria above whilst providing an enjoyable work environment and varied working day. She gives a great account of her job, including some very useful advice on how to break into this understandably popular career area.
Terri, thanks so much for your contribution today and for bringing a smile to my face when reading your interview :-)
---
So, briefly, what is your job?
"I am a School Secretary. It's a very small school with a very small staff so my responsibilities are basically whatever needs to be done, from administering the school dinners to completing the school census for the Education Department; from booking and arranging school trips to doling out first aid to children with scraped knees; I order stationery and and any other supplies needed for the school, arrange for contractors to come in and service the alarm systems, complete repairs and do anything else the head teacher needs me to do."
How did you get into it?
"I've always wanted to work in a school (I was brought up reading Mallory Towers!) and thought of being a teacher when I was at school but I was too impatient to be out earning so that didn't happen. I have a Business Studies qualification, O levels, secretarial qualifications and my ECDL and these are definitely necessary for the job. Jobs in school admin are popular with mums for obvious reasons and not always easy to come by but I had been the volunteer secretary for the school playgroup for a couple of years so I was already known to the school when I applied for my current job."
Describe a typical day.
"There is no such thing as a typical day! Today I started by sorting out the days numbers for dinners, prepared the menus for next week's lunches and distributed them to the children. I made sure all the paperwork was ready for the school trip one class was going on. I helped with the on-going arrangements for the Jubilee Tea Party and the arrangements for the imminent arrival of two visitors from our Kenyan partner school. I administered first aid to a child with a badly bleeding leg. I explained to the head teacher what a dongle was, played with the school cat, and ordered stationery. In between all this I answered the phone, sorted out all the queries, dealt with various problems that parents came to me with and said a sad farewell to our French assistant."
What do you enjoy most about your job?
"I love the fact that every day is different and nearly every day is fun. The children are lovely for the most part and I enjoy the contact with them while not having to actually teach them. Some days are challenging and need decision making on my part when the Head is not there, other days are pure escapism - we had a whole school Tudor Christmas this year when we all got to wear costumes all day and on Thursday I am going to be dressing up as a superhero (the Purple Flash!) and visiting the Reception Class to thank them for finding my cape and to tell them a story and answer their questions."
And the least?
"I honestly can't think of anything I don't like about my job. I look forward to going in every day."
What are the common misconceptions that people have about the work you do?
"I think people probably assume that all I do is typing and answering the phone but those are probably the smallest part of my job. I think they would be amazed at how much is involved in running a school and how much of that devolves on the School Secretary, especially in a small school like ours."
What are the main skills you need to work as a school secretary?
"Apart from the obvious office based skills, I think you need a sense of humour, the willingness to take on any task, the ability to prioritise, to be efficient and well organised and to be able to think on your feet and adapt to whatever a particular day calls for. Good interpersonal skills are essential as you have to deal with children, parents, staff, governors, visitors, sales people, contractors - the list is endless and you need to be able to form good relationships with them all."
Tell us a little about the benefits that come with the job.
"An obvious benefit, particularly for women with children, is the fact that you (more or less) work school hours and have the school holidays off work. Pay is reasonable, depending on the grade of your job and there is a certain amount of job security as the school will always need admin staff. For me the main benefit is the enormous job satisfaction, the involvement in the life of the school which in turn means involvement in the community."
What advice would you give someone wanting to break into this career?
"There is understandably a lot of competition for jobs in schools because of the hours, holidays etc so apart from the usual office qualifications and experience I would say that if you can demonstrate an interest in school life or working with children e.g. volunteering with your local PTA or playgroup, Brownies, Guides, sports team etc. It will give you an advantage over other candidates."
Where do you see yourself in 10 years' time?
"I am old enough to be retired in 10 years' time but I very much hope I will continue working in my little school until that time comes. It's the best job I have ever had."
AND JUST FOR FUN…
First in the office or last to leave?
"First in and (apart from the Head) last to leave."
Tea or coffee?
"Coffee."
Staff canteen or packed lunch?
"Packed lunch unless I was feeling lazy, then it's school lunch."
The lift or the stairs?
"We only have stairs."
Out after work or straight home to bed?
"Neither - straight home to housework and dog walking!"
---