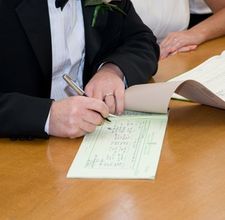 Welcome to this week's 'The Monday Interview'.
Do you consider yourself a true people person? If so, then perhaps your considered careers have included…hmm… human resources?…marketing?… sales? The truth is, there are very few jobs around these days which don't require an ability to deal well with those around you. But none more so, perhaps, than the professionals whose job it is to meet with people at some of the most overwhelmingly emotional points in their lives. If you are a people person, have you ever considered a career as a Registrar?
Today's fascinating insight into the working life of a Registrar comes from Bryony. She tells us what it's really like to do a job with involves meeting people when they are at their highest, and their lowest. She reveals the concentration and focus that is needed in order to perform the job properly and accurately during these poignant times. And in a world where technology rules, it is wonderfully refreshing to hear about a job where demonstrating neat handwriting is an important part of the recruitment process!
Over to you, Bryony, and thanks so much for your contribution.
---
So, briefly, what is your job?
"I am a Registrar of Births, Marriages and Deaths. I also do Stillbirths and Civil Partnerships. I register the events as per the Civil Registration Act of 1837 which says all such events must be registered at the register office in the district the event took place in within a timeframe. I have to meet people at the most emotional times of their lives. Personal circumstances may differ hugely from one couple/family to the next so I must liaise with them and record accurately information about the event."
How did you get into it?
"It was a job that I was interested in doing as soon as I graduated from University but the vacancies are rather few and far between. By the time one came up, I grabbed the opportunity! I had to fill in an application form by hand to demonstrate neat handwriting, and show that I was capable of working with people from all walks of life. I was invited for interview, and had to again, demonstrate my handwriting and have a formal interview with senior members of staff."
Describe a typical day.
"Arrive at 8.30am, fetch my office keys and cash in if necessary. Prepare paperwork and receive appointment sheet. 9am-12pm Take 6 appointments of either births, deaths or stillbirths. 12pm-1pm lunch! 1pm-4pm 6 more appointments. 4pm-4.30pm close down office, take care of accounts and account for all the certificates issued that day. If I am rota'd to work on ceremonies, my day differs. Instead, I will take on 6 wedding ceremonies throughout the day, including interviewing each couple before the ceremonies start and preparing the register and certificates."
What do you enjoy most about your job?
"I enjoy meeting people, no appointment is the same. I love asking the question "What name have you given the baby". Most appointments are incredibly interesting, finding out what jobs people do, family history, places of birth. Weddings also, are much fun as it's the happiest day of their lives and sometimes there is scarcely a dry eye in the house!"
And the least?
"I'm not a big fan of doing the daily accounts. It requires good and quick multiplications and balancing the books at the end of the day, week and month is not my favourite job!"
What are the common misconceptions that people have about the work you do?
"People often think that registering deaths isn't nice. And to a large extent they are right - it's never nice to be faced by people who are grieving. However, often it's incredibly interesting and the people you are meeting want to talk about the person who's passed away with lovely heart-warming stories. It's very special to feel part of that."
What are the main skills you need to be a Registrar?
"You must be a people person. You cannot be a registrar without being comfortable with the general public. You must be patient, especially to deal with people where English isn't their first language, or with people who don't want to be there. You must be accurate and good at checking things time and time again. Once mistakes are made, it's very hard to correct them."
Tell us a little about the benefits that come with the job.
"Pay in Registration varies considerably depending on the size of the district that your office covers. Smaller register offices don't pay as well as metropolitan register offices. It's also council funded, not privately owned so pay represents council scales. You can expect to start on about £16-18k pa as a Deputy Registrar, and this will increase as you go to Registrar, then Deputy Superintendent Registrar and onto Superintendent Registrar."
What advice would you give someone wanting to break into this career?
"When you see the vacancy, grab it. These jobs do not come up often. Some offices require Saturday working for Ceremonies as well, so be willing. Be aware you most likely will start as a Deputy Registrar, then depending on the movement in the office, move up from there."
Where do you see yourself in 10 years' time?
"Hopefully as a Superintendent Registrar! Who knows :)"
AND JUST FOR FUN…
First in the office or last to leave?
"Last to leave. I'm usually battling with the accounts…"
Tea or coffee?
"Tea, with a generous splash of milk."
Staff canteen or packed lunch?
"Soup in the microwave!"
The lift or the stairs?
"Stairs…mostly."
Out after work or straight home to bed?
"Home to bed."
---