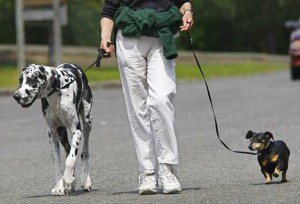 Welcome to this week's 'The Monday Interview'. And this week I want to bring you something a little bit different. When I started this blog series, it was my intention to bring to you a full and varied selection of job options and not to restrict my interviews to, for example, particular industries or particular salary brackets. And it was certainly not my intention to include only the more traditional careers. Today's interview highlights the realities of the changing job market and is a great example of a job which is increasing in demand and in popularity.
The UK is, indeed, a nation of pet-lovers. But in an economic and social climate where it is increasingly common for all adults within a household to be working, who exactly is going to be looking after these pets through the day? In the following interview, Julia talks about she managed to fulfil her dream of owning her own business with her love of animals as she embarked (no pun intended) on a career as a Pet Sitter/Dog Walker.
Many thanks, Julia, for this interesting insight into your working life.
---
So, briefly, what is your job?
"Pet Sitter & Dog Walker - providing one-to-one pet care ranging from daily dog walking and puppy care for people out at work all day, to cat feeding (great alternative to using the unfamiliar surroundings of a cattery) and holiday care for other pets from mice, to horses!"
How did you get into it?
"Working for myself was a long held dream and I've always loved animals. Combining the two seemed like a great idea."
Describe a typical day.
"Start the day at 8am doing my morning cat visits to feed, water, clean litter trays etc. Around 10.30am would start my first dog walks of the day, finishing around 3pm. Would then do any pm cat visits or holiday care jobs generally getting home around 5.30pm."
What do you enjoy most about your job?
"Being my own boss and a sense of being in control of my career, in a way I don't think you get working for someone else. I'd left a big corporate firm to do this and getting back to basics was refreshing. Also, being outside in the beautiful countryside, working closely with some fantastic pets and owners."
And the least?
"Working 7 days a week - people go on holiday all year round and so need a reliable pet care service all year round too!"
What are the common misconceptions that people have about the work you do?
"That it's easy! It takes a huge amount of commitment - it's a way of life more than a job."
What are the main skills you need to be a Pet Sitter?
"Being good with animals AND people - it's not the dogs that hire you! Also, great customer service skills are needed - people trust their homes and their pets to your care. Dedication, dedication, dedication. You can't ring in sick or skip off early if there is work to done. General business skills are necessary as you are going to be responsible for all aspects of running a business including keeping financial records, keeping up to date paperwork as well as advertising it and fielding enquiries."
Tell us a little about the benefits that come with the job.
"You won't get rich from doing this but you can earn a decent wage. The job satisfaction is the best bit about doing the job. Where else would you get paid to play with puppies and kittens all day!"
What advice would you give someone wanting to break into this career?
"Research is key so do lots of it. How many similar services are operating in your area - if there's not any then ask yourself why. This type of business operates well in cities where professionals may travel frequently and may not have friends/family to call on. That said I operated very successfully in a small town/country area. You have to adapt to what clients in your area may need - I offered horse care for example."
Where do you see yourself in 10 years' time?
"In ten years' time I'd like to have a recognisable brand and in particular to be the number one source of pet care in my region. I would like a team of like-minded people who are as enthusiastic as I am to care the pets whilst I'd see myself managing and overseeing it all but still being hands on helping out when an extra pair of hands is needed. I'd also liked to have branched out into house sitting whereby I had staff who could live in clients house whilst they are away."
AND JUST FOR FUN…
First in the office or last to leave?
"Only one in the office!"
Tea or coffee?
"Tea."
Staff canteen or packed lunch?
"Packed lunch on the run."
The lift or the stairs?
"Stairs."
Out after work or straight home to bed?
"Bed."
---