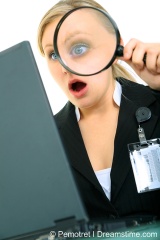 Welcome to this week's 'The Monday Interview'.
Today I wish to challenge some perceptions…..
If I say the word "accountant" what do you think of? Let me guess. Someone boring…dressed in grey… most probably male…? Well, I can tell you that today's contributor, despite being an accountant, is none of these things. She is fun, outgoing and energetic. She is also my sister :-)
Sam trained as a Management Accountant on a graduate training scheme straight from university, and now works as a Financial Controller. I can personally vouch for the fact that, from a young age, accountancy has always been a likely career choice for her. And yet it is a career with an image problem, which may well be off-putting to many suitably skilled people considering entering the profession. This is a shame, as if you are good at analysing data and communicating information you could do a lot worse. Accountancy does come with a whole lot of 'positives'. The job market is buoyant (particular in today's economic climate), the pay is good and it is a job which travels well - every country needs accountants. In today's case study we can see how Sam has, in fact, managed to take her professional skills overseas and combine her career with a lifestyle choice.
Thanks Sam, for your contribution to my blog series. Now get back to your skiing!
---
So, briefly, what is your job?
"I am the Financial Controller of several countries for the UK's largest Ski Tour Operator. I manage the accounting function and local ledgers for the overseas operations in all of these countries."
How did you get into it?
"I think I was born to be an accountant, due to my love of figures and obsession with counting money from a young age! After getting a degree in Economics (subject unimportant to most employers), I got a place on a graduate scheme with a manufacturing plc and studied for my Management Accountancy qualification (CIMA) with my employer's support. Once qualified, the world is your oyster. You can pretty much work in any industry and most locations around the world. I love skiing so luckily found a job overseas with a travel company as an accountant."
Describe a typical day.
"I report the KPIs (Key Performance Indicators) for local sales and headline costs to overseas and UK management, deal with queries from the overseas operations team and liaise with local banks & auditors."
What do you enjoy most about your job?
"Showing people that numbers are their friend if they have previously been daunted by them, taking time to help them understand what the figures mean. I deal with people from all walks of life and backgrounds so it can be challenging, but very rewarding when you see the lights finally switch on."
And the least?
"The volume of transactions and complications of multi-currency ledgers means a lot of report running and data analysis which can be tedious and time-consuming."
What are the common misconceptions that people have about the work you do?
"That all accountants are dull and wear grey! Accountancy is a multi-faceted profession where you are often called on to help with important, time-pressured decisions. A large number of MDs & CEOs have accountancy backgrounds."
What are the main skills you need to be a Financial Controller?
"Strong attention to detail, the ability to analyse large amounts of data and turn it into something meaningful, and the capacity to explain financial information to non-finance personnel."
Tell us a little about the benefits that come with the job.
"It certainly pays the bills quite nicely as you progress up the scale, but salaries do vary widely between industries. Everyone needs accountants so it is generally easy to find work in a wide variety of industries, companies & countries."
What advice would you give someone wanting to break into this career?
"You have to be prepared to spend at least 2-3 years sitting exams, usually while training on the job. Without qualifications it's difficult to progress beyond a certain level with most companies."
Where do you see yourself in 10 years' time?
"I hope to step off the career ladder and set up my own accountancy business. Somewhere with a slower pace of life…"
AND JUST FOR FUN…
First in the office or last to leave?
"First in."
Tea or coffee?
"Earl Grey tea."
Staff canteen or packed lunch?
"Packed lunch."
The lift or the stairs?
"Stairs."
Out after work or straight home to bed?
"Bit of both. Variety is the spice of life!"
---