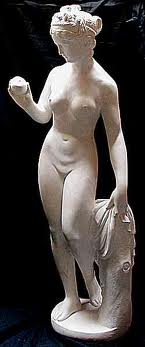 Welcome to this week's 'The Monday Interview'.
And now for something a bit different, and not for the shy and retiring.
How does the thought of taking your clothes of in front of a room full of strangers appeal? Yes…? No…? Well, today's contributor is brave enough to make a living out of it. Respect!
Typical, I'm sure, of most who do this as a job, Charlie does not life model full time. Instead, she fits it in around her other jobs. She's one busy lady. In her interview we find out that life modelling has always been a dream of hers and how, ultimately, she'd like to go on and use the skills she has developed whilst modelling to become the teacher rather than the subject of the art classes.
Whilst it may not be the job for everyone, Charlie's enthusiasm for her work comes across strongly in this interview. It is so refreshing to hear from someone who clearly loves their job. Thank you, Charlie, for your fabulous contribution.
---
So, briefly, what is your job?
"I work as a life nude model for art students, these range from 17-19 year old studying art at college for the first time, to more mature students wanting to further their skill."
How did you get into it?
"I had always wanted to be a life model. It saddened me that a lot of my friends of both genders were ashamed of their bodies preferring to hide away from anyone (even long term partners) seeing them naked. It has also always saddened me that we are often told we have to be a perfect air brushed size that the media portrays however none of us in reality are that- the body is beautiful in all its shapes and sizes.
One night, I felt it was a now-or-never decision and I emailed a local college asking if they needed a nude model - even one who had never done it before. To my amazement they said yes."
Describe a typical day.
"I arrive with plenty of time to set up the studio, so putting on heaters (art studios aren't known for their warmth), helping put up easels and preparing my set for the day- usually a few sponge mattresses and a throw on the floor. I chat with the tutor leading the class taking notice of the hand-outs and of the techniques that the students are to learn. We discuss how long the poses are and I get changed into my robe. We put classical music on in the background which helps to bring a relaxed feel to the class. Once all the students have arrived, the door is locked and my work begins.
Usually it starts with four 5 minute poses so the students get into the swing of things. Then it tends to be longer poses of 30 minutes to 90 minutes. As I am in the middle of the room and students are surrounding me I have to be creative and imaginative with poses making sure all students have something interesting to draw."
What do you enjoy most about your job?
"I love so much of my job! From seeing students work progress from the tentative drawings in the first few times to the master pieces they create towards the end of the course. I love seeing how they can transform a blank piece of paper by just using charcoal or ink or paint. I love getting to know the artist behind the easel too.
It is a pleasure to work in such a creative environment where everyone is focused on learning, progressing and expressing themselves through art."
And the least?
"Three things:
One of the most difficult parts of my job is staying awake. Because life drawing rooms usually have all the heaters directed towards the life model I do get very warm. I also have to keep my eyes in the same spot for as long as my pose. I think in the 3 years I have been doing this job, I've only fallen asleep twice-although the students may tell you otherwise.

I do often have limbs that go to sleep or go into cramp or I have an itch these things I have learnt to have self-control over them and ignore till break time.

Artists and tutors tend to lose track of time very easily. So it's now a must in all life drawing rooms to have a clock as so often the "5 minute left of this pose" call of the tutor turns into an extra 15-30 minutes!
Also, many life drawing classes are at colleges so you have to be willing to travel and work during the week and during term time only. When colleges close for holidays the work tends to dry up.
What are the common misconceptions that people have about the work you do?
"Many people don't understand what life modelling is. They seem to confuse playboy type poses with life modelling, whereas it couldn't be further from the truth. Students are there to learn how to draw and will be observing the body, the shapes and angles, the light, the tone and the negative space surrounding the body. Any 'other' thoughts will be at the back of their mind, believe me.
The other misconception is that the tutor of the class dictates what poses the model does. In actual fact, the tutor may give an indication of poses but the model is always in control of what pose they do."
What are the main skills you need to work as a life model?
"You have to be quite a sociable person to do this job as the students/artists like you talking to them. It's important that you become involved in their learning journey and admire their work.
You must also bring with you a sense of humour and broad shoulders for this work. Don't be precious about your body either- the students will draw you ten times as large or lop sided or make you look a lot less human or feminine than you feel. It's ok - they are learning. Laugh and commiserate with them If you are anxious, worried or scared the artists can feel that when they are drawing you…so take a deep breathe, drop that robe, strike a pose, relax and enjoy it- you are the centre of all their attention!"
Tell us a little about the benefits that come with the job.
"I love this job. It has opened up a whole new world to me. I now have a more varied interest in art and go around galleries looking at the various pieces of art and ponder how long it took the artist or how the muse felt whilst she was modelling. I have gained more body confidence since starting my life modelling journey, I have learnt to love all my body -seeing myself as artists see me has been an intriguing experience. They see shape, form, light, dark, tone, texture and beauty and I now see that more too.
I also now have two original pieces of art of myself from classes I have modelled at. I feel very privileged to own these."
What advice would you give someone wanting to break into this career?
"I would advise anyone to apply to be a life model - any size, any shape, any gender. Although before applying I would encourage them to research poses online, and to practise them and how long they can hold them for. It is helpful to keep these in a portfolio to refer to, as sometimes tutors just say something vague like "I'd like a standing pose for 20 minutes".
When you feel ready, apply to local colleges running art courses and, as in my case, one might just say yes!"
Where do you see yourself in 10 years' time?
"In ten years' time I hope to have learnt the art of life drawing and be able to teach life drawing classes too. In the past I have organised classes and modelled for them whilst a friend leads the class. I would also love to be modelling at more classes throughout the North East too."
AND JUST FOR FUN…
First in the office or last to leave?
"I'm always the last to leave the class."
Tea or coffee?
"Definitely coffee - double expresso and lots of frothy milk. Delicious"
Staff canteen or packed lunch?
"As I tend to model at college I use the college canteen."
The lift or the stairs?
"Stairs. It's three flights but helps to stretch out my muscles before and afterwards."
Out after work or straight home to bed?
"Often my classes are till late in the evening and to be honest I'd rather just go home, slob comfortably (with some clothes on) and eat."
---