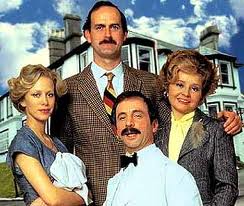 Welcome to this week's 'The Monday Interview'.
Despite the fact that many industries are struggling in the current economic climate, hospitality is one which continues to hold its own, with strong mid-term growth forecasts. Yet with high staff turnover rates and a work force made up of a large percentage of part-time workers, it is overlooked by many as a career choice. This is a shame as it has much to offer those with a genuine skill and enthusiasm for dealing with the public.
Today we hear from Michael, a general manager with responsibility for two hotels and a nightclub. Typical of many in the industry (and despite the huge recent explosion in provision of hospitality-related degrees) he has worked his way up to his current position from humble beginnings as a waiter so is well versed in the realities of 80 hour working weeks and dealing with, dare I say, tricky customer expectations. In spite of this, it is clear from his interview that he is passionate about the industry he works in and what it can offer in terms of career opportunities and job satisfaction.
As always, I am very grateful to my contributors for sharing their stories with me. Thank you Michael.
---
So, briefly, what is your job?
"I am the general manager of a hotel company. I run two hotels and a night club. I look after the day to day operations covering everything from the type of tea bag we use to the company accounts."
How did you get into it?
"Like most in the trade I started at the bottom as a waiter, working my way up through restaurant management, operation management and finally general management. Like most I never planned a career in hospitality but fell into it and found a passion. There are many courses and degrees in hospitality but the vast majority of senior management have no qualifications."
Describe a typical day.
"In about for around 8.30 am for a quick walk around my hotels and catch up with the managers on duty. I have a quick cup of tea then a morning of dealing with accounts, meeting suppliers and dealing with operational issues that may have arisen. Every day is different as you deal with the public and their expectations. The hotel trade is always moving so you spend the summer planning Christmas and the autumn planning spring etc. Demand changes quickly and my hotels have to be able to adapt and change constantly. By evening I find myself serving dinners in a restaurant or staff training, finishing around 9pm, weekends see a midnight or an early morning finish."
What do you enjoy most about your job?
"Every day is different; you meet and interact with thousands of different people every year. I work with upwards of 60 staff and when you spend many hours working alongside each other your team becomes a mini community. It's a challenge, it changes every day and you never know what you are about to face."
And the least?
"It's long hard work, as a manager you can work 80 plus hours a week, mostly on your feet. You work every special event, Christmas day, New Year's Eve, Valentines etc. My hotels never close so I am on call 24 hrs. a day seven days a week."
What are the common misconceptions that people have about the work you do?
"People see hospitality as a last resort or dead-end career. For years you serve people and clean up after them. I have run businesses with muti-million pound turnover and employed hundreds of people but it still is not seen as a particularly desirable or worthy job."
What are the main skills you need to work as a hotel General Manager?
"PATIENCE! You deal with young unskilled staff a lot of the time, not to mention the untrained guests! You have to be prepared to work hard; before you reach senior management the shifts are long you have to get out of bed after 3hrs sleep and be happy and ready to start again."
Tell us a little about the benefits that come with the job.
"The pay until you become a general manager is fairly poor. Even when you reach senior level the pay does not match similar jobs in other sector. However you get experiences through the trade that otherwise you may not be able to afford. I have stayed in great hotels, eaten in great restaurants and tasted great wine."
What advice would you give someone wanting to break into this career?
"Start at the bottom work hard and prove yourself. Moving up the ladder is all about gaining experience and constantly learning from others. Swap jobs every couple of years see different hotels and keep up to date with the ever changing industry ."
Where do you see yourself in 10 years' time?
"Still in hospitality."
AND JUST FOR FUN…
First in the office or last to leave?
"Both!"
Tea or coffee?
"Tea, and lots of it."
Staff canteen or packed lunch?
"Guilty of using my team of chefs to make me lunch and dinner."
The lift or the stairs?
"Stairs."
Out after work or straight home to bed?
"Bed."
---