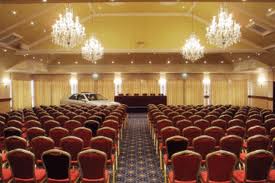 Welcome to this week's 'The Monday Interview'.
And are heading back to the hospitality industry, an area I initially covered earlier on this year when we heard from a Hotel General Manager. Today we are going to be exploring a different side of the same business - Events Management.
As a careers adviser, I am aware just how popular a career choice this has become over recent years, with a number of related degree options now cropping up. That's not to say that you need to have an Events Management degree to enter the industry. As we hear in today's interview, a degree (in any subject) is not always necessary. But skills such as organisation and attention to detail, along with a strong customer focus, are a must.
Today's contributor, Daisy, makes for an interesting case study. Whilst her career developed in a very 'hands-on' role, a recent promotion has meant that she currently spends little time organising events and more time providing support and training to events teams throughout the company. As such, she is a well-seasoned pro and able to give some valuable advice on the realities of the profession and how to break into it. Thanks so much for your contribution, Daisy.
---
So, briefly, what is your job?
"I work for an international hotel chain as an Area Groups, Conference and Events Manager. I look after 7 hotels in the UK and oversee the on property teams who look after all conferences and events that the hotels host, as well as group bedroom bookings. I provide support, training and advice to the teams both remotely and with on-site visits. I also represent the area at countrywide commercial forums and get involved in additional projects for the company. The teams do not directly report into me but I assist the management teams at the hotels with development, succession planning and recruitment."
How did you get into it?
"I have worked for the company for 5 years - the first 3 were based at one site running a groups, conference and events team of 5 and then following maternity leave I returned to this promotion! It did mean that I had to return early and full time but this had always been my ultimate goal so it was worth it.
I have no formal qualifications, left school at 16 and have worked in hotels and event organising all my life. I did get some vocational qualifications along the way and plenty of on job training. However, if I was looking to join the company now I may not get the job as an A level/Degree education is now one of the preferred criteria on the job description!
I started working as a general assistant and then moved to reception before starting working in conference & events 8 years ago. I took a short break from hotels and spent a couple of years working for a charity organising events in hotels and venues which was fab to see the other side!"
Describe a typical day.
"There is no typical day for me but a typical week will involve 2/3 days on the road visiting hotels where I would typically have a catch up with the hotel manager and GCE manager on arrival and then spend time in the office working with the teams, checking systems and processes are in place and being adhered to and offering support where needed.
The other 2 days will involve report writing, number crunching, working on projects and area commercial strategies (such as Christmas/Olympics) as well as offering telephone support to the teams as necessary."
What do you enjoy most about your job?
"The flexibility and lack of specific deadlines - there is very little I do that has very timebound deadlines so I can adapt my day/week as needs be depending on circumstances and the needs."
And the least?
"The travelling - up to 200 miles some days (and always with the worry that if I get stuck my son will be stuck waiting for me in nursery although this has never happened yet!)"
What are the common misconceptions that people have about the work you do?
"That I spend the day/week organising weddings! When in actual fact it is very rare for me to get involved in the day to day organization of any event (unless it is an event that I am hosting!)
Lots of people from outside the industry that I interview seem to want the job as they want to spend the day organising weddings and parties. In reality particularly in a large business hotel as most of mine are, the main events held there are conferences and a lot of the week is spend organising small conferences for 2-50 people along with the associated administration as well as making proactive sales calls. The role can also be quiet prescriptive with set ways to answer the phone, handle enquiries etc which people don't realise."
What are the main skills you need to work as a hotel events manager?
"In my role - patience and tactfulness!
In the jobs that lead into my job - customer focus, excellent attention to detail, organisational skills, the ability to prioritise and juggle workload, sales skills and computer literacy as we use so many systems!"
Tell us a little about the benefits that come with the job.
"The hospitality industry is notorious for its poor pay but conference & events within hotels seems to be a well paid part of it (typically team members earn between £14 and £20K depending on where they are based and managers between £22K and £35K). I did have the strange situation where I was negotiating a salary for one of my managers that was more than I earn as they were based inside the M25 and I am not!
Working for an international hotel company gives you great opportunities to explore places at reduced rates - I had 5 nights in Barcelona last year in a 5 star hotel for £50 a night! They also negotiate benefits with other companies on your behalf so I get cheap mobile phone deals and my breakdown cover is at a significant discount too.
Training and development within my company is second to none and the opportunities are excellent particularly if you are prepared to move across the UK/World - a recent manager transferred to Barbados and another to Sydney. "
What advice would you give someone wanting to break into this career?
"Be sure you fully understand what the job involves - it is not for everyone and I have seen several team members try and not succeed as they did not fully understand what the job involved.
As with a lot of jobs these days there are not many management positions available - normally 6/7 teams members to each manager and then I have 7 managers who are in my area. Because of this management positions are very hotly contested internally, so be prepared to go in as a team member and show your worth. Take on additional responsibilities where you can and prove yourself. 4 of the 5 managers I recruited last year were internal team members stepping up from the position of team member. All of the positions had external candidates apply but they just did not meet our recruitment criteria."
Where do you see yourself in 10 years' time?
"I am really struggling with this at the moment as I have finally achieved the job I have been aiming for and I am not sure of what my next step is as I have a young child so am not flexible to transfer abroad or take a job that include overseas travel at this stage."
AND JUST FOR FUN…
First in the office or last to leave?
"First in the office."
Tea or coffee?
"Neither - I live on water."
Staff canteen or packed lunch?
"Packed lunch if I am at my base hotel, food from the bar when I am out and about."
The lift or the stairs?
"Stairs."
Out after work or straight home to bed?
"Straight home to bed."
---