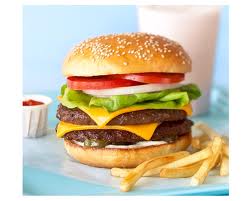 Welcome to this week's 'The Monday Interview'.
Have you ever wondered what options there are for people who want to work with food but don't want to train as chefs? Well, today's interview touches on more than one of the alternative careers for people in this position.
This week's contributor, Hayley, currently works as a home economist for a very famous international chain of fast food restaurants (yup, it's probably the one you're thinking of!) but she actually started her career as a food editor on magazines. She gives us a great interview today, focusing on a less obvious job role but one where she has really been able to indulge her passion in food and turn it into a successful career.
So next time you are watching the TV adverts for food products, reading food magazines or flicking through cookery books, think about the huge range of people actually involved in making it happen.
Thanks so much, Hayley, for sharing your fascinating career journey with us ;)
---
So, briefly, what is your job?
"I work in food development at McDonald's UK. My main job is to oversee the product shots on photo & TV shoots (commercials). I essentially make sure everything is cooked as it should be, everything ingredient is looking its best, and the new products are built correctly. They are then photographed or filmed in a studio setting. I will then look over the shots & sign them off."
How did you get into it?
"I have always been interested in food, cooking and eating! I started cooking at the age of three and carried on from there. I did home economics at school, followed by A-Level Home Economics. I then decided to study BA (Hons) Home Economics, which included a lot of social studies (family law, etc), as well as nutrition and product development."
Describe a typical day.
"If I'm in the office, I prepare for any upcoming shoots: order ingredients from suppliers, make sure I have the correct build card (McDonald's restaurants use a 'build' card, which shows the crew members which ingredients to use, how much & in what order), take part in pre-alignment conference call with the photographer, agency & marketing department.
If I'm on a shoot, I make sure the ingredients have arrived firstly, then run through the build with the other home economist & photographer. We will then build a 'mock up' to set the scene then concentrate on building our 'hero' product."
What do you enjoy most about your job?
"Part of my job is the develop new products, so aside from being on a shoot (which I love), I also enjoy trawling the high streets looking in coffee shops, restaurants, supermarkets, etc, for new food trends, new ideas for drinks, sweet snacking, burgers, chicken, ice cream….. I do eat a lot of yummy things (but do have to be careful with the cholesterol levels & fillings in my teeth!)"
And the least?
"I used to work as a food editor on magazines, and as a freelance food stylist, which gave me more creative freedom to come up with my own recipes, and style the food as I wanted; McDonald's is more limited creatively, but I have learnt a lot: that our beef is actually very good quality, our milk is organic, we've used free range eggs for over 10 years…. It's really not all bad!"
What are the common misconceptions that people have about the work you do?
"People generally think that we use plastic beef patties, rubber cheese, and mashed potato for ice cream. I can say now is that the ingredients we use on a photo shoot are exactly the same as you would get in any McDonald's restaurant. For example we use exactly the same amount of lettucee as you would get in any restaurant, the only difference being is that we can take a few hours to capture a beautiful burger (we want customers to buy it, afterall!)"
What are the main skills you need to work as a home economist?
"Firstly I think you need a love of food. You need to like every ingredient you work with, as during the development process there is a lot of tasting (and yes, we do have to taste McFlurrys!) You need to keep up-to-date with food trends, have a strong sense of taste, be able to distinguish between flavours (often subtle ones), and you do need to be able to cook and follow a recipe (or make it work when the recipe doesn't!)"
Tell us a little about the benefits that come with the job.
"You get to eat a lot of yummy food! McDonald's do provide a lunch every day for its staff (and that doesn't mean a burger every day!); you get to meet a variety of people: agency staff, photographers, prop stylists, new food suppliers. I've done everything from visit a cheese factory one day to zip over to Munich, Germany for photo session."
What advice would you give someone wanting to break into this career?
"I have to say it's a very unique job, so many get into it by chance. I started as a cookery writer on a weekly women's magazine, then started assisting home economists on photo shoots. I then went out on my own, food styling for magazines, cookery books, TV, etc. It doesn't pay very well (unless you concentrate on advertising), but the key is to get in touch with other home economists and assist, assist, assist…."
Where do you see yourself in 10 years' time?
"Goodness. I'd actually like to go back to being a food editor, or associate editor, of a magazine. I had a daughter five years ago, which is why I changed direction slightly to the corporate world of McDonald's. However now she's at school I'd like to go back to the editorial world. Who knows? I'm not a great planner, as I just like to see where I end up."
AND JUST FOR FUN…
First in the office or last to leave?
"I don't start till 9.45am, so neither."
Tea or coffee?
"Coffee in the morning, tea in the afternoon."
Staff canteen or packed lunch?
"Canteen."
The lift or the stairs?
"Lift."
Out after work or straight home to bed?
"Neither - I collect my daughter and then straight home."
---