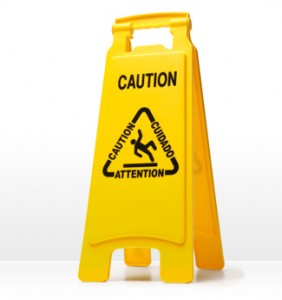 Welcome to this week's 'The Monday Interview'.
I'm keen to challenge a few perceptions today.
Now, be honest, if I say "health & safety" what is the first thing that springs to mind? Clipboards, perhaps? Dare I even say it… jobsworths? I'm sure you wouldn't be the first person to make that association. Most of us now are picturing someone in a high-vis tabard shaking their head whilst tutting, and stopping us doing what we need to do to get our jobs done. Yes?
But do we ever look at health and safety as a dynamic career? An exciting one with the need to be passionate yet adaptable and receptive to ideas? One with excellent career progression opportunities? I doubt it very much. But read todays interview and you might just change your mind.
Today's contributor is Emma who works as a Health, Safety and Environmental Adviser within the lucrative oil and gas industry, a job which involves working both onshore and also offshore in the North Sea. She provides a case study which shows us not only how essential health and safety is but also how rewarding and challenging a career it can provide.
Over to you, Emma, and thanks so much for sharing your career story with us.
---
So, briefly, what is your job?
"I provide onshore and ad-hoc offshore health, safety and environmental advice to Well Intervention and Dive Support vessels operating in the North Sea."
How did you get into it?
"I started my career in a local Council as a Contracts Officer in the Waste Disposal department. Once getting to know the crews and seeing the risks they encountered, I made a case for a role as an HSE Advisor and was appointed. To be a Safety professional, you have to prove competence. In the eyes of the Health and Safety Executive, this is a combination of qualification and experience. I studied for a diploma in Occupational Health and Safety and then a PgC in Risk Management which are primarily law based. After gaining general HSE experience, I applied for my current job in Aberdeen and was fortunate to get it. I had to undertake my BOSIET training( Basic Offshore Safety Induction & Emergency Training), which gives you basic first aid, fire fighting skills and what to do if the helicopter ditches due to an emergency - you are placed in a helicopter simulator and dunked and rolled underwater in a large pool. To work offshore, you must hold this qualification."
Describe a typical day.
"On the train into work I receive my first e-mails from the vessels detailing the past 24 hours. On these reports, it tells me if they've had any accidents or environmental incidents and also any "At Risk" moments. Once in the office, we hold a conference call with each of the vessels and we briefly discuss any issues and the campaign they're working on.
After the call, I meet with Project Engineers and go through the programme for upcoming campaigns, which can be anything from stemming leaks in oil wells to sending "pigs" down the well to gather information on how a well is performing - don't panic, they're not real pigs! This enables me to identify any high hazardous activities and assist in developing methods to control the risks involved.
If the vessels are port, I'll take a trip down to see the crews, discuss any issues and undertake any audits that are scheduled.
If I'm required to go offshore, I'll join the vessel in port and sail anywhere in the North Sea, sometimes into Norwegian Sectors. The weather is often treacherous and a lot of the voyage, you're confined to the inside of the vessel so I visit the dive chambers where the Saturation Divers are held for anything up to 28 days in a small 10 x 8 foot chamber, either waiting to dive or decompressing following a dive. This always amuses me as they're fed a blend of helium and oxygen, which gives them the high pitched voice you get from a helium balloon! You bear in mind though that diving is an extremely hazardous industry with no room for error.
Once the weather clears up, you can get out on deck, chat to the guys, watch the operations and conduct "Time Out for Safety" which will be a 15 minute chat on a particular subject such as hand injuries, risk assessment, health issues - a small injury in the middle of the North Sea can be catastrophic due to it being so isolated, so what may be considered trivial in everyday life such as a cut, can prove to be problematic if a person needs to be evacuated to shore for treatment, especially in bad weather.
After that, I may have a climb up to the crown of the Derrick (the the highest point of the vessel) to check for any potential dropped objects, make sure everything is secure and stable, which can be a bit hairy even in the calmest of weather!
Once my stint offshore is over, I'll don my survival suit and head for the chopper to take us back to shore. Once landed, it's time for a well deserved pint!"
What do you enjoy most about your job?
"Without a doubt, the diversity! No single day is ever the same. I enjoy the project planning stage where I can learn about the technology that enables us to get that precious black gold from the seabed into our homes and cars. I adore being offshore because it's a great community where everyone looks out for each other - the banter is great.
Ultimately, the most fulfilling part of the job is when the crew go home safe and healthy after a campaign."
And the least?
"Obviously accidents and incidents is the worst part of the job. You get that ill feeling in the pit of your stomach when you get the initial report, waiting to see how serious it is and if anyone has been seriously hurt.
The worst I've come across is investigating an accident where a young lad impaled himself on some railings - thankfully he was OK, but being on the scene, taking photos, taking statements while waiting for news is hard at times."
What are the common misconceptions that people have about the work you do?
"Oh, so many misconceptions about 'elf 'n safety! That we're clipboard carrying jobsworths with grey personalities? Completely the opposite - you need to be passionate, dynamic, adaptable and receptive to opinions, suggestions and ideas - it's often the guy on the ground who comes up with the solution. We don't want to stop work happening, we just want to make sure everyone goes home in the same state as they came to work.
That health and Safety costs too much. Well, accidents cost a lot more! Taking out of the equation of the personal cost to the individual, time when you've shut a work area down because you need to investigate, prosecutions costs - it all mounts up.
That health and Safety goes too far. A good safety professional will always balance the risks and apply sensible risk management."
What are the main skills you need to work as a health, safety & environmental adviser?
"Objective, practical and passionate. A lot of detailed work is required when accident and incident investigation as you need to establish root causes to prevent it happening again.
I think above all, you need to be energetic and dynamic because it can be frustrating at times and you need to remain upbeat."
Tell us a little about the benefits that come with the job.
"The Oil & Gas industry is known for its good wages. Salary banding up here ranges from £45k a year upwards for staff positions, but if you work on day-rate (contracts) you can expect anything from £500 a day. Most companies pay an offshore allowance of around £200 a day. Private medical / dental care, pension schemes, gym membership are all expected.
The industry is very sociable and gatherings can be quite elaborate affairs. Working and living in Aberdeen is unlike most places in the UK - it's quite affluent. We work hard, long hours but when it's playtime, we play hard!
Progressing through the industry is easy enough if you have the right attitude and put in the hours. It is not unusual for people to stay only 6 months in a job as opportunities for progression come up very frequently."
What advice would you give someone wanting to break into this career?
"Getting into the Oil & Gas industry is incredibly difficult - I found myself taking a backwards step just to move forward.
The industry can be a brutal when things go wrong so you have to work within your capabilities or run the risk of carrying the can. HSE Advisors can be prosecuted if it goes wrong, so you have to make sure you keep your skills up to date and never advise on anything that you're not entirely sure of."
Where do you see yourself in 10 years' time?
"Working a 3 day week in Australia would be ideal and not unachievable. I will still be in the Oil & Gas industry, without a doubt, but at what level - I'm unsure."
AND JUST FOR FUN…
First in the office or last to leave?
"Tradition of HSE Teams is to be first in the office, last to leave the pub!"
Tea or coffee?
"Coffee - normally 3 cups before 8am"
Staff canteen or packed lunch?
"Lunches out. Hence the one stone weight gain in six months."
The lift or the stairs?
"Stairs - I do my bit to promote the 'Health' element of HSE."
Out after work or straight home to bed?
"Out after work."
---