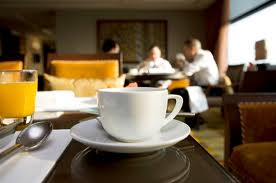 Welcome to this week's 'The Monday Interview'.
I've got a fascinating case study that I'm really excited to be bringing you today.
Think about the recruitment industry and what image springs to mind? A team of 'wide boys' whoop whooping their way through phone calls, notching up their commission through a combination of heavy-selling and truth-stretching? Let's face it, the industry doesn't always have a great reputation. And that's a shame because today's contributor, Louise, shows just how much it has to offer.
OK, so Louise isn't a recruitment consultant, but she does recruit. Rather than being employed by an agency, she is employed directly by a city hedge fund and her remit is to identify and then headhunt the best talent for her firm. This means that, whilst selling is still an important part of her job, the real emphasis is on her strong research and negotiation skills. And, her knowledge of local coffee shops!
Thanks so much, Louise, for providing us with a twist on the 'usual' recruitment scenario and showing us in the process just how important support roles are in determining the success of city firms.
---
So, briefly, what is your job?
"My job title is 'Head of HR & Recruitment', and I work for a large hedge fund in the City. Chiefy, though, I work as an in-house headhunter, looking for talented new hires for the firm."
How did you get into it?
"I graduated from Cambridge in 1997 with a First - the only thing I knew for sure was that I didn't want to be an academic! I fell into recruitment by accident, and worked as a headhunter specialising in the investment industry for over ten years. The founder of the hedge fund I now work for hired me to join him and help grow this business. My central mandate here is to identify the most talented fund managers in Europe, approach them, meet them, and assess their suitability for this fund."
Describe a typical day.
"I might spend the morning researching fund manager performance on the internet and Bloomberg, and making discreet phone calls to the people that look the most interesting. Then I'd typically meet a couple of potential candidates either here in the office or in a coffee shop in the West End. I write reports on the people I meet, and discuss them with the founder of the fund every week or so."
What do you enjoy most about your job?
"Meeting the best and brightest people in this industry - it's great fun!"
And the least?
"There are some huge egos in the City (thankfully not within the firm I work for) so on occasion, you have to deal with very tricky characters who have little time for you."
What are the common misconceptions that people have about the work you do?
"The biggest misconception is that the hedge fund industry is an 'old boys' network'. Whilst there's still a long way to go, the firm I work for was founded by someone from humble beginnings, and he's built this business not through connections, favours or family money, but through consistently impressive fund performance."
What are the main skills you need to work as a headhunter?
"Confidence, discretion, strong negotiation skills, excellent research ability. And an in-depth knowledge of every coffee shop in London, as that's where most of your meetings take place!"
Tell us a little about the benefits that come with the job.
"The industry pays well in that it clearly links reward to performance. My own compensation is driven by how well the fund performs, and how well I do at hiring people! My guaranteed compensation is a six-figure number; the variable bonus element might be a high five-figure number in a bad year to a chunky six-figure number in a good year."
What advice would you give someone wanting to break into this career?
"People forget that recruitment is essentially a sales industry, so there are targets to be hit, calls to be made, and tough negotiations to be handled. You have to be prepared for the knockbacks, as well as the successes."
Where do you see yourself in 10 years' time?
"Occupying a global head of recruitment role for one of the world's top 10 hedge funds."
AND JUST FOR FUN…
First in the office or last to leave?
"Neither! We're big on work/life balance, and as I have a young daughter, I stick to 0830 - 1730."
Tea or coffee?
"Coffee, and lots of it."
Staff canteen or packed lunch?
"Definitely the latter."
The lift or the stairs?
"Given that the office is near the top of one of London's tallest skyscrapers, it has to be the lift!"
Out after work or straight home to bed?
"The job does involve some of out-of-hours networking, but when I get the chance, I'm home in time to read bedtime stories to my toddler."
---