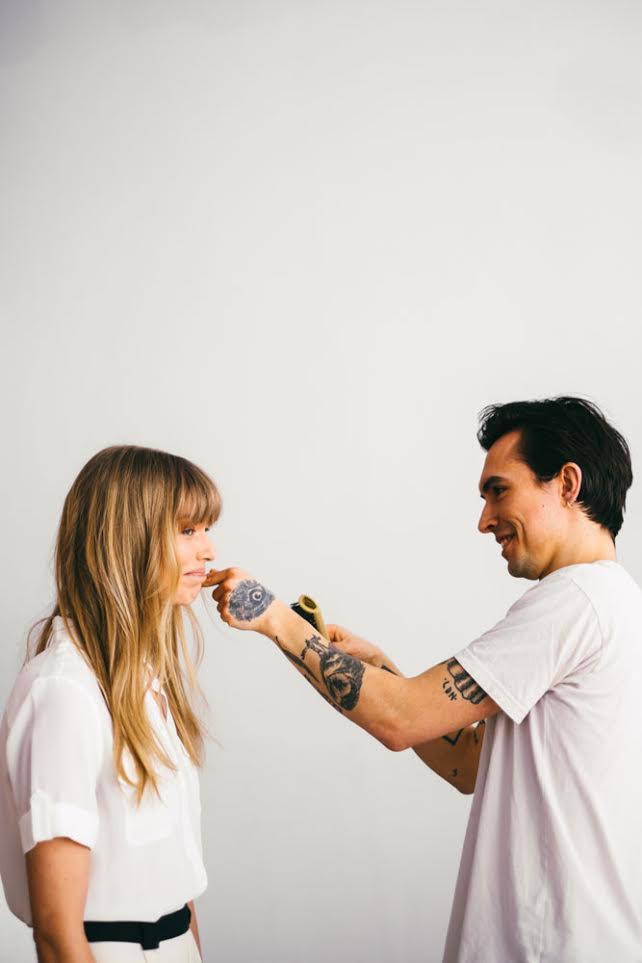 Welcome back to 'The Monday Interview'.
I need to start with an apology. This blog series has sat dormant for far too long and I'm genuinely sorry as I know how many people found the posts useful. In fact, that is exactly what happened with today's contributor, Thomas Silverman, who read my post on working as a hairdresser and very kindly contacted me to offer an insight into the specifics of his own job. Naturally, I snapped his hand off.
When we think of people working in the hair industry it is fairly safe to say that our first thoughts would be with salon stylists. And while this is how Thomas's own career started, he now works as a stylist on photoshoots and fashion shows. Sounds glamorous? Thomas would be the first to say that there are days when it can be far from that. Nonetheless, this interview shows us that the work in this competitive career area comes with many benefits and Thomas give some very insightful information on the best ways to break into it.
Enjoy the read, everyone. And if you'd like to check out Thomas's (very talented) work further, take a look at thomassilverman.net.
---
So, briefly, what is your job?
"Freelance hairstylist, session hairstylist or hairstylist working in the fashion industry tend to be the 3 ways I describe my job. Working as a hairstylist on photoshoots & fashion shows differs from a salon-based hairstylist's day as a large proportion of the job is about only styling the hair. Often the models you are working with will be on many shows/shoots a week and cutting their hair is often not an option. These days I may not get my scissors out of their case for weeks!"
How did you get into it?
"I worked in salons for 9 years before entering a competition with a hair product company to become one of their educators. This company had 3 top session hairstylists as it's ambassadors, and when one of these ambassadors needed an assistant on a photoshoot in London I was asked if I wanted to do it. With zero knowledge of what I was walking into I went along, and I ended up eventually leaving my salon job to work for 3 years as a 1st assistant to the hairstylist I met.
I felt confident in my cutting ability after my salon work, but the training I received in how to style hair when working as an assistant has been integral to working in fashion."
Describe a typical day.
"There are two main types of shoots you will work on in fashion: Editorial shoots are the ones you see in fashion magazines. On an editorial shoot you will most likely have a rough brief outlined by the fashion stylist & the photographer at the start of the day. Fashion stylist, photographer, hairstylist and makeup artist will sit down and talk through the whole shoot. How the hair should be, what changes throughout the day. We'll talk through the clothes, the lighting, makeup, and put it all together for a really creative and often very fun day!
Commercial shoots are slightly different, often a bit less creative in the hair department. These are the shoots where you are working for a brand. So you will arrive and have the meeting with the team as above, but the client will also be there. It's important to listen to the client and not give them any surprises with the hair, as they are trying to steer everyone in the direction of how they want to portray their brand."
What do you enjoy most about your job?
"It has involved a lot of travelling which has been amazing. I meet a lot of new people which I really enjoy, and have made some life-long friends. The creativity involved is a lot of fun, you can have some shoots where you get to put into action some really out-there ideas that you have had in your head for years. And when the time is right to do it, it's really exciting!"
And the least?
"I've chosen to stay freelance, and not have an agent representing me, as I really enjoy the freedom of being my own boss. However, this does mean I have to look after all my own expenses, invoicing, my calendar, and emailing back and forth a lot about jobs. These are skills I've had to become disciplined in, as creativity and business often have to go hand in hand! I also don't enjoy negotiating fees, but again, it is part of the job."
What are the common misconceptions that people have about the work you do?
"That it is always glamorous! It is really hard work, call times are anywhere between 5am-9am and you often find out the night before where you're going to be. You can end up working in some less than desirable environments. Location shoots can be amazing if you are working in an incredible house, or on a beach. But more often than not you will be on the streets of London, holding an umbrella over the model's head in between shots so the rain doesn't destroy your mornings work."
WhWhat are the main skills you need to be a hairstylist in the fashion industry?
"The job itself primarily entails feeling confident in nearly all aspects of hairdressing: colour, cutting, roller setting, tonging, wigs, extensions, up do's, braiding, and blow drying.
Feeling confident involves a lot of practice, on your friends or on a dolly head at home in the evenings. It's a competitive industry so it's really important to be a really good all-rounder before you set off."
Tell us a little about the benefits that come with the job.
"I would say that the job gives you potential to earn really well. Because it involves a lot of years of training, and having to give it your all every day, people are willing to pay quite well for the peace of mind that the person turning up is going to help the day go smoothly and do a really good job every time.
It can take years of working in the industry and building connections to start earning the larger day rates that some people do. Most people start working on e-commerce shoots, these are really regular bookings and pay between £100-£250 a day (remember you have to save your own tax from this).
I would say the social side of the job is incredible. Working on set is often a lot of fun, and working with a constant rotation of people keeps things fresh if, like me, you don't like to stay still too long."
What advice would you give someone wanting to break into this career?
"My route into this industry was not so common, and a full-time job as a 1st assistant doesn't come up too often. The best way is to contact the hair and makeup agents in your city and tell them you're interested in working as an assistant with the artists they represent.
Be confident and honest about your hairdressing abilities, but not too pushy! Agents probably won't want to see your own hairstyling work unless they ask for it first.
At first you might spend many, many hours holding hairpins and hairspray, but keep alert, as you will be watching very valuable lessons in front of you every day."
Where do you see yourself in 10 years' time?
"The uncertainty of working in this industry means I don't normally plan 10 days ahead! But I would say, as much as I love London as my home, I might be tempted to try somewhere slightly warmer for a while."
AND JUST FOR FUN…
First in the office or last to leave?
"I'm always the first on every shoot! I don't like being late so I'll normally arrive with plenty of time."
Tea or coffee?
"Coffee for me. All day long!"
Staff canteen or packed lunch?
"I've recently learnt the enjoyment of preparing a packed lunch."
The lift or the stairs?
"Stairs have been the bane of my working life lugging suitcases around, so I'm going to say lift."
Out after work or straight home to bed?
"Home if I have work the next day, but if not then definitely straight to the pub!"
---
If you are on Facebook or Twitter and want to make sure that you don't miss out The Monday Interview, and other blog posts, then you have the following options:
Facebook - go to my facebook business page and click on the 'Like' button (the main one at the top of the page, not the one linked to this post)
Twitter - follow me: @momentumcareers
Alternatively, if you want to view the complete blog series to date now, then simply click here.
---
Momentum Careers Advice is based in St Albans, Hertfordshire, but can provide careers advice, guidance and support via Skype, across the UK and beyond