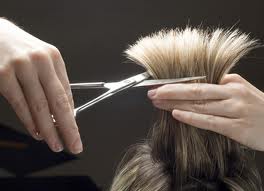 Welcome to this week's 'The Monday Interview'.
With so much interest in graduate careers it can be quite easy to forget that there are an abundance of jobs out there that don't require a degree. And with the soaring costs of a university education it is better timing than ever to explore these alternative options.
As we know, a good place to start with this process of exploration is by taking a long hard look at the skills that you can offer. Perhaps you are a people person, confident and hardworking, and keen to use creativity at work? In that case, this interview could be very interesting to you, as we focus today on hairdressing.
In this week's interview our contributor, Joanna, explains that learning the trade really does give you a 'skill for life' that can always be used to make money, where ever you may be. Having a job that travels well really does open up opportunities and offer flexibility. And whilst we may not associate hairdressing with being a well-paid career area, the possibilities for self-employment are strong. For those of you with an entrepreneurial spirit, the sky is your limit.
Thanks so much, Joanna, for your great input into this blog series.
---
So, briefly, what is your job?
"Senior Stylist at a hair salon. I cut, colour and style hair, give advice on styles and hair care. I have a number of regular clients who always come to me and I also have one off clients who are happy to have any stylist do their hair for them. I also work on the salon reception desk greeting clients and answering the phone."
How did you get into it?
"I started studying Beauty Therapy but I didn't like it so I changed to Hairdressing and really enjoyed it. I did a three year apprenticeship which involved getting a job in a training salon, working four days a week in the salon and one day a week in college. I gained an NVQ Level 3 in Hairdressing which meant I was fully qualified and could get a full time job as a Stylist in a salon."
Describe a typical day.
"I get to work early so I start with a cup of coffee! I check my appointment list for the day and as my clients come in I greet them, find out what they want done to their hair today and then cut/colour etc as required. If I don't have any clients for a while I work on reception, taking phone calls, making appointments, taking payments etc. We also clean and tidy between clients to make sure the salon is clean and hygienic for our customers."
What do you enjoy most about your job?
"I really enjoy meeting people and chatting to my clients. I love giving people a new look and doing a full makeover for someone. It's lovely when someone new becomes a regular client and I get to know them well."
And the least?
"The unsociable hours (working every Saturday and working late nights on a Thursday and Friday). It can be very tiring being on your feet all day."
What are the common misconceptions that people have about the work you do?
"People assume that hairdressers are unintelligent and that it is a job that is easy to do and is a sort of "fallback" job that people do when they can't do anything else. The training is actually very intensive and needs intelligence and skill to become a good and competent hairdresser. People also think it's very glamorous (it's not - it's hard work!) and they also think we talk about holidays all the time."
What are the main skills you need to work as a hairdresser?
"Creativity, confidence, dedication, good people skills, be able to think on your feet, good work ethic, stamina, good under pressure, quick learner (there are always new trends in hairdressing!)"
Tell us a little about the benefits that come with the job.
"Benefits: A great training which gives you a skill for life, hairdressers are always in demand and you will always be able to make some money from hairdressing, even if you are a stay at home mum you can do mobile hairdressing or work part time. Downside: the pay isn't great, thee career progression prospects aren't that good unless you work in a top class salon or own your own salon."
What advice would you give someone wanting to break into this career?
"Don't go into this job just because you can't think of anything else to do - go into it because you think you will love it. It is hard work but rewarding if you are the right type of person. Get your training with a reputable college and a reputable salon so that you get the best training possible to make yourself employable."
Where do you see yourself in 10 years' time?
"I don't really have a life plan at the moment - I have been considering going to work on cruise ships in their salons for a year or two which I think would be a great experience but other than that ……watch this space!"
AND JUST FOR FUN…
First in the office or last to leave?
"First in the salon."
Tea or coffee?
"Coffee."
Staff canteen or packed lunch?
"Packed lunch."
The lift or the stairs?
"Stairs."
Out after work or straight home to bed?
"Straight home to bed."
---