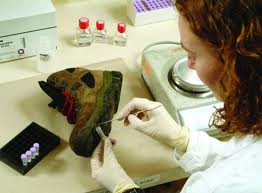 Welcome to this week's 'The Monday Interview'.
When I first started this blog series, I asked my readers to supply me with ideas of career areas they wanted to find out more about. It was no surprise to me that one of the most popular requests was for forensic science. Working as a careers adviser over the last 10 years I have seen a sharp rise in the number of students wishing to study criminology (or similar) at university with the intent of entering a related career area. Much of this I'm sure comes down to the prevalence and popularity of shows such as CSI focusing, of course, on the more exciting aspects of the work. I was keen to get a 'reality check' and so very happy to get my hands on an experienced forensic scientist, wishing to be known only as "The Mad Scientist" who very kindly agreed to give me the low-down on his career to date. The Mad Scientist gives us an honest account of what the work is really like and a little insight into the instability and unknown that lies ahead within the industry. Oh, and he's an excellent case study for proving that you don't need to study criminology at university to work in this field ;-)
---
So, briefly, what is your job?
"I am a Senior Forensic Scientist within the Evidence Recovery Unit at the FSS (Forensic Science Service). My key responsibilities are the recovery of trace evidence from a variety of exhibits and the generation of examination notes for internal and external customers within the Criminal Justice System."
How did you get into it?
"I studied Physiology and Nutrition at university. After graduating I began working in genetic research in a small company working on various genetic diseases. This was short lived as I found the work very dull and too monotonous, so I decided to move onto something more practical. I always had some interest in forensic science but never considered it as a career. An opportunity arose within a local FSS laboratory which I applied for, and was soon employed as an Assistant Forensic Scientist."
Describe a typical day.
"A typical day usually consists of an early start, reading correspondence and reviewing case requirements before entering the laboratories. The case work can be quite varied, ranging from single evidence cases to multi-evidence major crime cases.
The work entails the searching of various exhibits submitted by the police for a particular case and documenting the evidence recovered/found. Once reviewed with a Reporting Officer, samples are sent off for DNA analysis
Of course, we get the change during the day for a brew!"
What do you enjoy most about your job?
"Besides the gore factor, the dynamics of blood patterns (BPA) which activity can be established particularly interests me. The feel good factor of doing a job that is part of the public service machine is also very rewarding."
And the least?
"The realisation that humans are generally quite nasty to each other."
What are the common misconceptions that people have about the work you do?
"That we work in dark labs with one light on. If this was the case we would never find anything!"
What are the main skills you need to be a Forensic Scientist?
"Patience, dedication and a sense of humour."
Tell us a little about the benefits that come with the job.
"The pay isn't fantastic. Most individuals do the job for the love and the reward of being a public servant. This, however, is all changing with the current Government, and the forensic market is very unstable. What the future holds for forensics is anyone's guess."
What advice would you give someone wanting to break into this career?
"Forensic science is a very difficult area to break into as the competition for jobs is at an all-time high. The media has portrayed the job as very glamorous and exciting which has popularised any role within the forensic market. I would advise anybody wanting to break into this career to do your homework on recent developments, the companies in the market, have a positive outlook on life and acquire a strong stomach."
Where do you see yourself in 10 years' time?
"That would be telling."
AND JUST FOR FUN…
First in the office or last to leave?
"First in."
Tea or coffee?
"Coffee."
Staff canteen or packed lunch?
"Packed lunch."
The lift or the stairs?
"Stairs."
Out after work or straight home to bed?
"Straight home to bed, if I could get away with it."