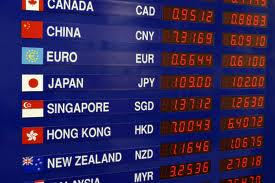 Welcome to this week's 'The Monday Interview'.
After a nice relaxing break for the Diamond Jubilee we are back today with something fast and furious…
With the global economic recession dominating the world news, never has the financial services industry been so high-profile (and not always for the right reasons). It remains a seriously popular career destination as so many are attracted to the vast scope of opportunities on offer and, no doubt, the lure of financial reward.
But which area of financial services is best for you? Well, today's interview covers a role where having the right personality really is vital to success, so it is not just graduates who are considered for entry level positions. If you love taking risks and can keep calm enough to make logical decisions in very pressurised situations then perhaps a career in trading could be right up your street? Today's contributor, Emma, is a London based foreign exchange trader and kindly gives us the ins and outs of her career to date.
Thanks so much for the interview, Emma. I know there will be lots of people who will find it interesting and, indeed, inspiring.
---
So, briefly, what is your job?
"Foreign Exchange Sales Trader. I trade FX on behalf of Investment Managers and Clients. I also help run a Passive Overlay Desk which is designed for clients who need currency hedge protection for overseas portfolios & want to protect exposure against exchange rate risk."
How did you get into it?
"It wasn't something that I had set out to do but after college I was working full time in a hotel & although I had the chance of promotion it wasn't the career path I was looking for. I had a few interviews in the City and got offered two jobs - one of them my present company."
Describe a typical day.
"I get in at Seven o'clock - this allows me to catch up on any market movement overnight before the London market opens. I then calculate any hedges I will be placing and watch the market to gauge when I feel the best time to trade is.
During the day I answer calls from clients and investment managers who wish to trade on behalf of their own portfolio's or clients' accounts. These trades are sent to me either over an electronic trading platform or manually via the phone or email. The foreign exchange trades people need to do are usually on the back of equity or bond trades - for example if a UK investor wanted to buy shares in a Japanese company they would have to sell sterling to raise Japanese Yen. I also keep my clients/managers informed throughout the day of any events that might make the market move unexpectedly. My aim each day is to provide a good service to my clients whilst enhancing the profitability of the bank."
What do you enjoy most about your job?
"When the foreign exchange markets are volatile it gives us a chance to make money as our aim is to provide as much flow as possible and although we deal at the bid or offer side of a price we aim to cover these trades at mid price or better."
And the least?
"When we lose money!"
What are the common misconceptions that people have about the work you do?
"That we have benefitted from huge government baiI-outs! (I work for an American Bank who has never needed any help from the tax payer). Also that we all earn the sort of money that you see in the newspapers. It's just not true."
What are the main skills you need to work as an FX trader?
"You have to be able to work under extreme pressure at times & be quick thinking. Being reasonably good at maths would also be a positive. And, of course, an interest in the financial markets helps."
Tell us a little about the benefits that come with the job.
"My company offer a good overall package and are generous with their pension contributions etc. I have to do a certain amount of client entertaining so I get to go to some nice restaurants. I also get to travel a small amount so can explore new places."
What advice would you give someone wanting to break into this career?
"Try and get work experience to get an idea of the department you have an interest in. A lot of big company's offer a graduate & non graduate training scheme. Be prepared to start at the bottom - you will be surprised how quickly you can move up from there."
Where do you see yourself in 10 years' time?
"Retired - hopefully!"
AND JUST FOR FUN…
First in the office or last to leave?
"First."
Tea or coffee?
"Tea."
Staff canteen or packed lunch?
"Neither."
The lift or the stairs?
"Lift."
Out after work or straight home to bed?
"Out - babysitters permitting."
---