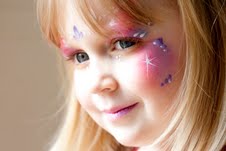 Welcome to this week's 'The Monday Interview'.
Christmas is nearly here, folks, and today we are hearing from someone who well and truly has their work cut out during the party season.
As a mum of 2 young children, I'm always fascinated to hear how others have managed to balance that tricky line between family and career. For this week's contributor, motherhood has not only been the launchpad for a new career, but it has allowed her to fulfil her dream of making a living out of art. She is also the person single-handedly responsible for my own daughter's current career ambitions. ("Mummy, when I grow up I want to be a face painter, like Hannah.")
As well as juggling being a face painter with being mum, Hannah is a great example of successful entrepreneurship - her mobile face painting service saw her make the move this summer from children's parties to the Olympic Park as she became the only face painter employed to work at the Olympics. Wow! Proof indeed that identifying and developing a niche can do wonders for business development.
I'm delighted to bring Hannah's interview to you today - she is a great example of someone who has turned their natural talents into a job and her enthusiasm simple bursts through this interview. Thank you for sharing your story with us :-)
---
So, briefly, what is your job?
"I'm a face painter and my company is The Glitterbox. I work across London & Hertfordshire with all ages, at a wide range of parties and events. I also offer a unique mobile service, painting without furniture, preventing long queues. Since developing this for the London Olympics it's proving popular, especially where space is limited, or for crowd entertainment."
How did you get into it?
"As is typical of face painters I took it up once I'd had my own children. I did an art foundation when I left school and, after an English & Drama degree, I did a post-graduate course in drawing at Central Saint Martins. As an undergraduate I designed scenery for a string of productions and made pocket money by painting pub boards and window-dressing. I always wanted to have an artistic career but I couldn't find a way to earn a living at it until I started The Glitterbox."
Describe a typical day.
"If I'm not painting then I'm working on my website, developing my portfolio, pitching to new clients or applying to agencies. I also attend local meetings or networking events for local small businesses which I find very useful and supportive. On a painting day I'll go through my kit to make sure I have everything I need, and to check all my equipment is clean and well-presented. I'll drive or take the train to the venue, arriving at least 15mins early to set up. I meet the client and, if it's someone's birthday I make sure I paint them first. Jobs are typically 2hrs, but they can be anything up to 8 hours, with scheduled breaks. On returning home I then clean and refresh all my kit and follow-up by asking the client for a testimonial. If the client is my own I ensure they have details of my website, facebook page and twitter. If I'm working through an agency I can't share any personal details; the agency is the broker."
What do you enjoy most about your job?
"I absolutely love painting and developing new techniques and designs. Making people happy is a big part of the job so that's a huge pleasure. I also really enjoy building relationships with clients, drawing on my previous background as an account manager. Meeting a wide range of people and having fascinating conversations, travelling to all sorts of interesting places and seeing fabulous venues, it's all great fun!"
And the least?
"Bookings can be cancelled at the last minute, you can be paid very late and you never know where the next job's coming from. Also you can easily damage your back if you don't keep careful check of your posture. There's also the universal challenge, as a mother of 2 under-5s, of getting the right balance between work and parenting. This can be a big challenge when you're working unpredictable hours."
What are the common misconceptions that people have about the work you do?
"Face painting tends to have very little artistic prestige, especially in artistic circles. It can be hard to convince businesses that face painting helps draw in customers and make their visit memorable and generates good word-of-mouth. Some assume you should pay them for access whereas you're delivering a skilled service for which you should be paid. There can be an assumption, particularly for lower-budget events, that inexperienced volunteers can be used, overlooking the hazards of long queues, cheap materials and poor hygiene."
What are the main skills you need to work as a face painter?
"A steady hand, a commitment to practicing techniques, good communication skills, rapport with people of all ages and backgrounds, reliability and enjoyment of the job."
Tell us a little about the benefits that come with the job.
"When you're working for an hourly rate you're paid well, and this has to be so to justify all the unpaid hours of work you do in between painting. In my experience, there is usually something you dread about a job, but this certainly can't be said for face painting. From publicity to negotiation, to practice and ultimately delivering a great service, it's all extremely fulfilling and never dull."
What advice would you give someone wanting to break into this career?
"This is a job to do for love, not money. Be confident you enjoy working with children and meeting and cultivating clients and agents. Practice to be the best face painter you can be but bear in mind people will be looking to build trust in you as an individual. Being someone clients are confident will be easy to deal with, reliable, warm, friendly and presentable is just as important."
Where do you see yourself in 10 years' time?
"I hope to have a broader portfolio of my own clients, while still working on large-scale agency jobs. I'd like to do more corporate events, providing more regular, reliable work, giving the job more structure. I'd also like to break into some film and television work and raise my profile nationwide. Having painted at London 2012 I also have my eye on Rio in 2016. As work increases I would like to paint more for charitable events and organisations, especially Great Ormond Street Hospital."
AND JUST FOR FUN…
First in the office or last to leave?
"Last to leave."
Tea or coffee?
"Tea."
Staff canteen or packed lunch?
"Staff canteen."
The lift or the stairs?
"Stairs."
Out after work or straight home to bed?
"Out after work."
---