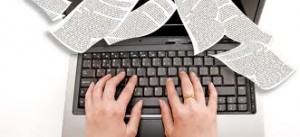 Big news - after a much longer than anticipated (15 month) break I can officially say that 'The Monday Interview' is back!
It was never my intention to stop this blog series it's just that, well, work got in the way. But over the last year I've had lots of people asking me if I'm going to be starting it up again and it has made me realise what a useful resource it is. So, we're back. I can't promise it is going to be every week, but I'll do my best!
And we are back with a great interview today, as Derryck gives us an insight into a writing career that often ducks under the radar. Imagine someone with great ability to communicate via written word and we probably imagine a journalist or perhaps even an author. But what if you want to combine this skill with an interest in the business world, to effectively market products and services? The internet age has opened up an abundance of opportunities for copywriters to add value to businesses in this growth area, and today's interview highlights just how flexible a career option this can be.
Many thanks, Derryck, for this insight into your career.
---
So, briefly, what is your job?
"I'm the Managing Director of Big Star Copywriting. I deal with everything from marketing, strategy, new business and managing sales, to delivery, personnel and finance."
How did you get into it?
"I have always been a writer but I gained experience in online marketing while setting up a cookery school. After that I began work as a freelance copywriter and the business expanded quickly beyond my capacity to do all the work myself. My initial experience was in student journalism at University then working as a staff writer in the music industry (WEA Records), although my love of writing started much earlier."
Describe a typical day.
"Email is a key tool. I start the day working through priorities - new customer enquiries, then existing customer enquiries, any urgent matters from my editors or writers. In the afternoon I work on marketing - talking to suppliers, managing Pay-Per-Click campaigns, dealing with web changes etc."
What do you enjoy most about your job?
"I love making sales and bringing in new clients and it's always satisfying to get a great testimonial from a happy client. Other than that I have flexible hours and lots of opportunities to try new things."
And the least?
"VAT!"
What are the common misconceptions that people have about the work you do?
"That anyone can do it. Just because you can write doesn't mean you can write effectively. Being a good copywriter means not only being able to write to persuade someone to take action but also to be able to understand businesses, understand their customers and get to grips with a huge variety of products and services, some of them very technical in nature."
What are the main skills you need to work as a copywriter?
"Strong writing skills. An interest in business and selling. Imagination. Good old fashioned things like reliability, consistency and honesty also go a long way."
Tell us a little about the benefits that come with the job.
"Flexible working hours. Freedom to pursue opportunities as they arise. Freedom to work anywhere (pretty much). Interesting and rewarding work."
What advice would you give someone wanting to break into this career?
"Build a portfolio. Be persistent. Start your rates low and build them as you gain experience."
Where do you see yourself in 10 years' time?
"Running a highly successful content marketing agency employing my son and daughter part time (they'll be teenagers!)"
AND JUST FOR FUN…
First in the office or last to leave?
"Last to leave."
Tea or coffee?
"Single estate, fresh roasted, filter coffee. Black. No sugar."
Staff canteen or packed lunch?
"I make my own microwave meals - chilli, curry, noodles…"
The lift or the stairs?
"Stairs."
Out after work or straight home to bed?
"Straight home for tea and piano practice."
---
Momentum Careers Advice is based in St Albans, Hertfordshire, but can provide careers guidance support, via Skype, across the UK and beyond