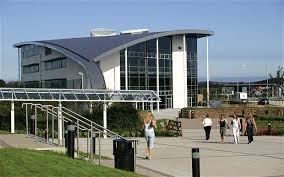 Welcome to this week's 'The Monday Interview'.
I'm really excited to bring you today's interview as it is an industry that I spent 10 years of my own career working within- education.
Those who have been following this blog series for a while will be aware that I did an interview with a Student Service Manager just over a year ago, and commented at the time that the industry is rarely targeted for non-academic roles despite having lots to offer. And today gives another great example of the career opportunities that do exist.
Universities and colleges are big business these days - with growing amounts of students and a widening array of courses of study, someone has to be responsible for ensuring that the organisation runs like a well-oiled machine. So meet today's interviewee, Marie, who does just that. Whilst she tells us exactly what her role involves, she also gives some great advice on how to help develop your career during a break from the job market.
Many thanks, Marie, for sharing your story with us.
---
So, briefly, what is your job?
"I work full time as an administrator for a college, maintaining the college prospectus, collating course dates and processing student attendance statistics."
How did you get into it?
"Office Administration was my second choice career, which I decided to pursue after I had to make the decision to have children earlier than I had originally planned. This halted my first career choice of becoming a Forensic Scientist."
While I was a stay at home mother I gained two home based qualifications that are equivalent to CLAIT/ECDL to strengthen my CV, as I had been out of the work force for 7 years at that point and had limited experience of office administration. My plan was to home study a few different skills so that when my children were both full time in school, I could return to working.
I suddenly found myself a single parent, which altered my plans to return earlier, as I could not provide my children with the lifestyle they were used to on Lone Parent benefits. Once I had researched the childcare options, I submitted my CV to Monster.co.uk and was then fortunate enough to be approached for a position at a local business centre as an Administrator / Receptionist. I held this position for 5 years, and it provided me with a wide range of skills. As I was assisting the premises manager with the day to day running of the centre, as well as assisting the 20 different businesses that were in residence. I also gained a Level 2 NVQ in Business Administration during this time.
Once my children were old enough I moved to a full time position within a local recycling company, which was very short lived as I was made redundant. This then led me to apply for my current position directly through the service company website with that works with a local college."
Describe a typical day.
"A typical day will start with me having a cup of tea while I check and respond to any course enquiries that have come in overnight. I then process any course updates that I have received by inputting the data onto several spreadsheets and updating the prospectus."
What do you enjoy most about your job?
"The variety of people that I come into contact with on a day to day basis, and being able to assist them with their further education."
And the least?
"It's almost a love hate relationship, but the never ending spreadsheets, as I have to duplicate the same information several times."
What are the common misconceptions that people have about the work you do?
"That it is boring and run to a ridged routine. No two days are ever the same, and despite the environment coming across as very old fashioned it's extraordinarily good fun."
What are the main skills you need to work as a driving instructor?
"Good organisational skills; excellent communication; customer service; common sense; and the ability to turn down requests, as clients can tend to overload you if you allow them to."
Tell us a little about the benefits that come with the job.
"Within my company there are excellent career progression, and plenty of training opportunities. There are events that are held throughout the year that we are able to attend. But for many smaller companies the roles can be very restricted."
What advice would you give someone wanting to break into this career?
"If you are attempting to break into the Administration as a career I would recommend gaining an ECDL qualification as a minimum. As the ability to use the extended functions of the Microsoft Office packages are a must."
Where do you see yourself in 10 years' time?
"In 10 years' time I expect to be either within a PMO(Project Management Office) Administration role or a Team Leader position managing a team of Administrators."
AND JUST FOR FUN…
First in the office or last to leave?
"Last to leave."
Tea or coffee?
"Tea."
Staff canteen or packed lunch?
"Staff canteen."
The lift or the stairs?
"Stairs."
Out after work or straight home to bed?
"Straight home to bed."
---
Momentum Careers Adviceis based in St Albans, Hertfordshire, but can provide careers advice, guidance and support via Skype, across the UK and beyond<