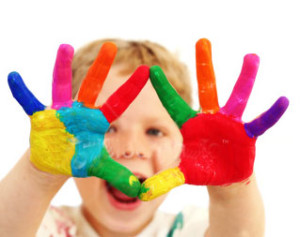 Welcome to this week's 'The Monday Interview'.
I know today's interview is going to appeal to lots of people, not least those who have recently started a family of their own and are thinking about ways of combining work with their own family commitments.
Of course, there are many jobs that involve working with children across a wide variety of settings. And as a parent of two young children myself, I know that none of these options are for the faint-hearted! Today we hear from Hazel who, as a childminder, works from her own home whilst being able to care simultaneously for her own children. In her account below, we hear how a redundancy originally opened up this new career area to her and how she hopes that her time as a childminder may lead ultimately to a degree in child development.
Thanks so much for sharing your journey with us, Hazel.
---
So, briefly, what is your job?
"I'm a childminder. I am self-employed and work in my own home. Currently I have 5 children aged between 18 months and 7 years in my care."
How did you get into it?
"I used to work in finance and was made redundant shortly after returning to work after my 2nd lot of maternity leave. I was keen to find a job which enabled me to be there for my own young children and also keen to change direction to work with children. I had to go through the registration process which took about 3 months and while I didn't need any qualifications to start working, I have since undertaken first aid, child protection and various other courses relating to child development."
Describe a typical day.
"I generally start work at 7.30am when my first mindees are dropped off. We have breakfast together about 8am and then head to school just before 9am. Once the older ones are dropped off at preschool & school we either head to a toddler/rhyme time group, go for a walk for the morning or home to do an activity such as sand play, painting etc. We then head back in time to pick up my youngest child from preschool and home for lunch, after lunch the little ones usually have a nap which enables me to spend a bit of time with my youngest. The babies usually wake up just before we head out to school again to pick everyone up. After school the house can be very busy but usually we have a snack, chat about their day, play games, do crafts and the children usually have some free time to play, during good weather they love to head outside into the garden. Generally I finish work between 530pm and 630pm and work Monday - Friday."
What do you enjoy most about your job?
"Watching the children learn new things, and the relationship they form with my own children."
And the least?
"The early starts, I've never been a morning person and in the winter it's particularly hard but at least I don't have to travel! The unpredictable nature of being self-employed is also difficult. I have a 4 week notice period when people leave which helps but it has also meant a few spells of being quiet, which is hard to budget for."
What are the common misconceptions that people have about the work you do?
"That I sit and watch TV all day! In truth the TV is rarely on during the day and only after school if the kids ask for it. I'm lucky if I get to sit down."
What are the main skills you need to be a childminder?
"Patience, a love of children, flexibility, multi-tasking abilities, a fun sense of humour and good communication skills."
Tell us a little about the benefits that come with the job.
"The pay could be better, the average in my area is £3.25-£5 per hour per child in your care and full time contracts aren't very common. That said, I feel I earn a reasonable wage and obviously don't have travel expenses, plus any other expenses incurred can be claimed in my tax return. For me the biggest benefits are being here for my own children & forming close relationships with the children I care for and their families."
What advice would you give someone wanting to break into this career?
"I think it's a fairly straight forward registration process, the hardest bit is finding business and all I can recommend is getting to know lots of other parents, I advertised a lot the first few months but find I get far more enquiries now simply because people know who I am and recommend me to others when they need childcare. I also think it is worth considering how childminding affects your own children and family time negatively at times."
Where do you see yourself in 10 years' time?
"Ultimately, I hope my experiences as a childminder will enable me to complete a child development related degree and hopefully work in a small nursery setting or teach."
AND JUST FOR FUN…
First in the office (studio!) or last to leave?
"Both!"
Tea or coffee?
"Tea."
Staff canteen or packed lunch?
"Packed lunch."
The lift or the stairs?
"Stairs."
Out after work or straight home to bed?
"Bed!"
---
Momentum Careers Advice is based in Welwyn, Hertfordshire, local to St Albans, Harpenden, Hatfield, Stevenage and Welwyn Garden City, but can provide careers advice, guidance and support via Skype, across the UK and beyond