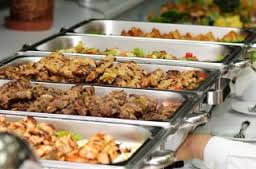 Welcome to this week's 'The Monday Interview'.
Moving on to the hospitality industry this week with a great interview about one of those jobs I'm sure many of us have misconceptions about.
So, what does a catering manager do? They cook, right…? Wrong!
Today we hear from Clare, who works as a catering manager within the education sector. She explains in her contribution how her job is less about grills and saucepans and more about budgets and HR issues. And whilst it is a career that attracts many graduates you are perhaps just as likely to get there working the long way up - starting as a food service assistant and gaining promotions through hard work and enthusiasm.
Thanks, Clare, for sharing your career journey with us.
---
So, briefly, what is your job?
"I work for a global facilities management company as a catering manager in independent education. I'm responsible for feeding around 1000 pupils and 120 staff plus hospitality for meetings, dinners, sports events etc."
How did you get into it?
"I always wanted to be a hotel manager because as a child I loved staying in hotels, it all seemed so glamorous. I left school with 3 A' levels and took a year off to decide what to do. I started working in bars and restaurants, then decided to do an HND on day release then did a degree in Hospitality Management. I've worked for this company for 18 years. The last 6 have been in this job but before that I had jobs in tourist attractions managing all the visitor catering plus conferences and events."
Describe a typical day.
"I live about 1 hour from work so get in about 7.15. We do a breakfast, break and lunch service so I am front of house during service making sure everything is ok. I don't have a line manager on site, I see my account manager monthly, so it's up to me to ensure that the business runs smoothly without any problems or issues for my client."
What do you enjoy most about your job?
"Interacting with people and the variety of the role. I'm not behind a desk or on my feet all day. I love planning events and creating menus and paying attention to little details."
And the least?
"The early start and the 40 mile commute!"
What are the common misconceptions that people have about the work you do?
"When I tell people that I am a catering manager they always think that means I cook. I don't (although I can help out if pushed)."
What are the main skills you need to work as a catering manager?
"You need to be an all-round business manager. I am responsible for recruitment, training, HR issues, health & safety, food hygiene, marketing, budgets, financial reporting, ordering, stock control etc"
Tell us a little about the benefits that come with the job.
"I earn around £28k per annum and I know the industry isn't well paid but it's not why I do the job. The only other benefit I can think of is all meals while I am at work. Oh, and because I work in a school I get 9 weeks holiday!"
What advice would you give someone wanting to break into this career?
"I have a degree but it's really not necessary. Most managers work their way up from being a food service assistant or chef. Be enthusiastic about all the tasks you are given, demonstrate good people skills and show attention to detail."
Where do you see yourself in 10 years' time?
"I've been ready for promotion to area management for the past 8 years but right now I'm happy where I am. I'd like to be closer to home but wouldn't sacrifice my working hours or holiday!"
AND JUST FOR FUN…
First in the office or last to leave?
"Last to leave."
Tea or coffee?
"Coffee. One cup as soon as I get in."
Staff canteen or packed lunch?
"Canteen? Restaurant, please!"
The lift or the stairs?
"Lift."
Out after work or straight home to bed?
"Straight home to bed."
---
Momentum Careers Advice is based in Welwyn, Hertfordshire, local to St Albans, Harpenden, Hatfield, Stevenage and Welwyn Garden City, but can provide careers advice, guidance and support via Skype, across the UK and beyond