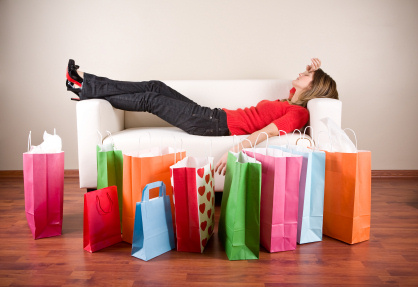 Welcome to this week's 'The Monday Interview'.
We're back from our Christmas and New Year break with a brilliant interview for you to enjoy. As December has seen most of us in a shopping frenzy which, for some, will have spilled over into the January sales, I thought it would be really appropriate to focus today's case study on someone for whom shopping features as a year-round career-related activity.
Abigail has spent the last 12 years working as a Senior Buyer for a mail order and online retailer. She is a fabulous example of someone who left university without any clear future plans but who has managed to navigate her way into a successful and fulfilling career. So, if you have a creative streak and a head for business, read on: this could be the perfect job for you.
Many thanks, Abigail, for your insightful and interesting contribution.
---
So, briefly, what is your job?
"I've been a Senior Buyer for a mail order and online retailer for 12 years. My main responsibilities are sourcing furniture and housewares to be sold via catalogues and online, arranging photography and working with graphic designers whilst catalogues are in production.
As a buyer, you're responsible for managing the cost base of your product ranges to meet target margins for the business. You spend much of your time liasing with suppliers to develop new ranges.
You need to be aware of market trends, and be on top of what your competitors are up to at all times!
You're also required to analyse sales and profits, to aid in identifying areas for growth, and conversely for highlighting poor selling areas where stock levels are too high and clearance activity is warranted."
How did you get into it?
"I left university not really knowing what I wanted to do, but with a vague interest in retail, I began applying (quite willy nilly) for positions on high street Graduate Training schemes. I'd actually imagined getting a place on a store management scheme, but a major supermarket was recruiting head-office positions which sounded much more interesting when I discovered more about it. At the time I was very naïve about what goes on behind the scenes to bring products to market and once I learned more I jumped at the opportunity!
I had an interview and had to do some psychometric tests, which I was positive I'd done terribly in. But a week or so later I joined the Buying and Merchandising team of their non-food department and two years later had completed the scheme.
I moved around a bit into various different product categories, and moved up the ranks as I went. I fell in love with mail order soon after leaving the supermarket industry. Along with a passion for catalogues and home shopping came a previously unrealised obsession with furniture and interiors. And that's remained a passion ever since!"
Describe a typical day.
"I'll sit down first thing with a cuppa and review the previous days sales - particularly at the beginning of a season or marketing campaign where it's anyone's guess which new products are going to be the winners.
I manage a team of 5 and usually have a quick catch up with the other buyers for a few minutes to reassess priorities for the day, and to find out if any of them need any assistance or advice from me on any specific issues.
Then I'll catch up with the Merchandising team (they're the chaps who hold the purse strings and make sure the stock flows in and out of the business at the right time). We'll discuss any problems with suppliers that need addressing, any quality issues, or any promotional activity we need to think about to push slow sellers or to hit a key upcoming event, such as Easter or Christmas.
It's important to keep in regular touch with suppliers so a typical day probably includes a supplier meeting either in our office or theirs. We'll discuss current product performance, talk through future product development ideas for upcoming seasons, review costs, margins and any returns or quality issues. A supplier meeting usually ends with action points on both sides - and almost always a request from me for lower cost prices!
Lunch is usually a quick bite and a gossip with colleagues - I've made some great friends at work over the years.
Buying is very cyclical and you are always thinking of the next season or even the one after that. So a large part of any day will be spent on forward planning and product development. In the early stages this will include range planning, where we propose which existing lines will carry forward and which are to be discontinued, and a requirement for replacement lines including design concept briefs for suppliers or scouring trade shows for inspiration. During later stages you're more likely to be reviewing samples, finalising cost and selling prices, and arranging photography, or briefing designers for the catalogue production. In a small company a buying team supports each other totally - we all try and know what the others are working on so we can jump in and lend a hand if needed.
Another regular occurrence is checking out the competition. On a pretty much daily basis I'll be scrutinising other people's websites and catalogues to make sure we're up to date with the latest trends and also to make sure we're selling things competitively."
What do you enjoy most about your job?
"The variety - both in terms of the people I work with and the job itself. Working for a smallish business means you get to know pretty much everyone you work with, and you all have to work together to get things done. You're also likely to have a cross over with other departments like merchandising or marketings, so you get to have input in more than just your specific field. There's a great atmosphere there most of the time and there's nothing like a quick stand-off (good natured of course) between a Buyer and a Merchandiser, who often have very different ideas on things! Usually settled in a competition to see who can fit the most jaffa cakes in their mouth at once."
And the least?
"Nothing! I love it all."
What are the common misconceptions that people have about the work you do?
"That it's glorified shopping! There's a lot of creativity involved sure, but you also spend a huge amount of time with data: researching, negotiating, analysing and presenting proposals for future activity."
What are the main skills you need to be a Buyer?
"You need to combine creativity with commercial thinking. You need to be tough at times and learn good negotiation skills. You HAVE to be a team player and be prepared to work with different skill sets and disciplines. You also need to be able to understand your market and your customer, to try and envisage what they really want next from your company so you can deliver ahead of your competition."
Tell us a little about the benefits that come with the job.
"Salaries and benefits vary hugely. Large organisations pay pretty well and usually have good pension schemes and benefits like a car scheme. The smaller businesses pay less, but I enjoy the environment more. They often operate a performance related bonus scheme to top up basic pay."
What advice would you give someone wanting to break into this career?
"I got off to a great start with my graduate scheme and would highly recommend getting off the ground with a blue chip organisation. Even though it turned out that a large organisation wasn't for me in the long term, it taught me a huge amount of basic skill sets and disciplines which I still use every day."
Where do you see yourself in 10 years' time?
"Sitting on a beach with a marguerita in hand, having made a fortune from a spur of the moment idea for a brand new product."
AND JUST FOR FUN…
First in the office or last to leave?
"Last to leave - but only so I miss the traffic!"
Tea or coffee?
"Tea please. Milk and none, nice and strong."
Staff canteen or packed lunch?
"Salad from home and lots to nibble on throughout the day."
The lift or the stairs?
"Single storey building. I would use the stairs if I had the choice though, honest!"
Out after work or straight home to bed?
"Home to the sofa, a pint and a cuddle with a cat!"
---