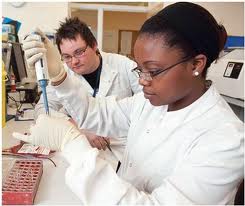 Welcome to this week's 'The Monday Interview'.
Today's contribution comes from a vitally important, but often overlooked, role within the healthcare sector. Think of a hospital and inevitably our first thoughts are with the patient-facing staff who work there - the doctors, nurses, midwifes, physios etc But what about all of the professionals working hard behind the scenes, assisting doctors in the diagnosis and treatment of disease?
Today we hear from Karen, a trainee biomedical scientist currently working in the role whilst also studying part time for her Biomedical Science degree. Phew. Not only do her experiences provide us with a slightly more unusual route into this career area but, at 46 years old, she is proof indeed that it really is never too late to train for profession status.
I hope you enjoy reading the interview as much as I did. Thank you so much, Karen, for allowing me to focus on this really interesting scientific career area.
---
So, briefly, what is your job?
"I work in a busy NHS pathology lab as a Trainee Biomedical Scientist in the histopathology department - the department which deals with tissue samples from surgical operations and autopsies. Anything from a tiny biopsy to metres of colon that need examining for possible cancers are dealt with by our department. We prepare the samples and carry out various processes to provide the pathologists with slides they can examine under the microscope in order to make a diagnosis."
How did you get into it?
"I began my career in pathology as a laboratory assistant providing support to the qualified staff. After a couple of years I gained promotion and moved from the microbiology department to histopathology as a senior laboratory assistant. My new manager was very supportive and encouraged me to consider applying for the trainee post when a vacancy came up. In order to qualify as a biomedical scientist and register with the HPC I have to have a degree in biomedical science - I am doing this on a day-release basis and attend university one day a week. This is a fairly unusual route into the profession, most biomedical scientists will have completed a full-time degree before beginning their career, I am also a fair bit older than the norm at 46!"
Describe a typical day.
"Specimens are received into the lab, booked into the computer system and then taken into the dissecting room to be cut up. Small pieces of each tissue sample are put into plastic cassettes before being processed through a tissue processor. The tissue samples go through a lengthy process where the water is removed and wax impregnated, this makes the tissue firm and enables us to cut very thin slices from it. Cutting thin sections of the tissue is very skilled and takes a lot of practice, they must be perfect! The tissue sections are mounted onto glass slides and stained so that they can be examined under the microscope. The pathologists sometimes require extra tests to be performed on the tissue too; perhaps a special staining technique so each day is different."
What do you enjoy most about your job?
"I enjoy the varied nature of the work, each tissue sample is unique."
And the least?
"Being the NHS, the pay isn't fantastic."
What are the common misconceptions that people have about the work you do?
"People assume that everyone in pathology is working with dead bodies! In the laboratory we are helping patients who are very much alive."
What are the main skills you need to work as a biomedical scientist?
"A love of science, the ability to work under pressure, good team player, and you mustn't be squeamish!"
Tell us a little about the benefits that come with the job.
"Starting salary for a newly qualified biomedical scientist is about 21K, an MSc is essential to progress to the higher grades but you could earn up to about 40K if you get to the top."
What advice would you give someone wanting to break into this career?
"The competition for trainee posts is high so I would suggest anyone looking for an opening should try to get as much laboratory experience as they can. Often new graduates will start as laboratory assistants to get a foot in the door and then progress from there."
Where do you see yourself in 10 years' time?
"Doing what I do now, but fully qualified."
AND JUST FOR FUN…
First in the office or last to leave?
"Depends what shift I'm on."
Tea or coffee?
"Both - I drink green tea more than anything though."
Staff canteen or packed lunch?
"Packed lunch - the canteen is at the other end of the hospital!"
The lift or the stairs?
"Stairs - I'm a lift phobic."
Out after work or straight home to bed?
"I wish! I have to spend my evenings studying for my degree."
---