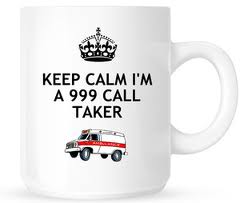 Welcome to this week's 'The Monday Interview'.
Is it important to you to do a job that contributes to society? Are you motivated by the need and desire to help other people directly through your career? If so, like today's contributor Debbie, you may be considering a career in the Emergency Services.
Debbie does not work as a policeman, or a paramedic or a firefighter, perhaps the more obvious job roles we think about when we focus on this sector. But her job is every bit as important. She has been working for the last 18 years as a 999 call taker for the ambulance service although these days her role has moved on to managerial responsibilities within the control room. She is another example of someone who didn't set out with a particular career in mind, but rather she has found a job that she is good at and which has allowed her to progress (this is truly one of the things I find most interesting about running this blog series - seeing the different ways that people end up in their respective career positions, whether through luck, judgement or a bit of both).
Thanks, Debbie, for giving us a fascinating account of your role and of the skills needed for it. And keep up the great work that you are doing :-)
---
So, briefly, what is your job?
"I work part time as a Call Taking Manager for a team of between 15 and 30 staff who take 999 calls for people needing ambulances in London. I'm their line manager so do the basics such as absence management, disciplinary matters, complaint investigations. On a daily basis I monitor the call rate, hi-lighting any spikes to senior management and check that calls are being taken correctly and compliantly. Due to the sometimes stressful nature of the job I also have to monitor stress levels amongst staff."
How did you get into it?
"I fell into it really! Back in 1994 I was living in Bristol but about to move to the South East with my then boyfriend. Looking for a job I saw an advert for 999 call takers at the London Ambulance Service. I applied and then had an assessment testing my speed hand writing (we weren't technically advanced then!) looking up addresses in a map book and listening to different accents to see if I could gather important information. No formal qualifications were needed, they still aren't. A calm, sympathetic manner and the ability to cope with shifts is more important."
Describe a typical day.
"I work shifts covering 12 hour days or nights, working 3 or 4 in a row in a repeating 5 week pattern. If I'm on days the alarm goes off at 04.15 (yes really!) and I'm at my desk in the Control Room by about 06.20. I take a handover from my colleague who has done the night shift and then check that my team come in and take over from their colleagues quickly and ready to take the next call. I then attend a meeting with my management colleagues to discuss the plans for the day. Returning to my desk I then monitor the type and amount of calls coming in, answer numerous questions from my team relating to their calls, check addresses are being taken correctly, helping out when needed. I have an assistant who I use to release me from the room so that I can do return to work post sickness interviews, Personal Development Reports, complaint investigations etc.
My shift ends at 18.30 where I give a handover to my nightshift colleague and head home, often with a buzzing head!"
What do you enjoy most about your job?
"Hearing my team make a difference to people possibly having the worst day of their lives and seeing those staff feeling satisfied that they have genuinely helped someone in need."
And the least?
"Hearing my staff receive horrible abuse from callers. Seeing them upset after a particularly difficult call. Hearing people call an ambulance for boils, spots and minor cuts and grazes."
What are the common misconceptions that people have about the work you do?
"That we will send an ambulance to everyone for any reason. That's no longer the case. If you call for a minor condition you will be re-triaged and possibly advised to take alternative action for your condition.
That we automatically know where you are when you call, it's not true, if you call from a mobile there's no way we can know exactly where you are. Make sure you know before you call!"
What are the main skills you need to work as a call taking manager?
"People skills; you need to be able to deal with a wide range of emotions from the public and occasionally your staff. You also need to be calm in stressful situations, sometimes there will be more calls coming in than there are call takers available. Knowing how to manage this and when to ask for assistance is crucial. The ability to manage people in what is often their first "proper" job.
The ability to cope with shift work covering 365 days a year."
Tell us a little about the benefits that come with the job.
"I've been working here for 18 years now so my salary is quite reasonable, the Full Time Equivalent is approx. £45000 p/a this includes London weighting and fully rotating shift allowance.
It's a job where you can feel true job satisfaction and that you can make a real difference.
You become very close to your colleagues when you work shifts doing a stressful job. They become like a second family.
Doing your weekly shop mid week instead of after 5pm or at the weekend!"
What advice would you give someone wanting to break into this career?
"Unless you want to start at Senior Management level where you can apply directly you have to start at entry level as an Emergency Medical Dispatcher. You then work your way up through the various levels until you get to management level.
You do not need formal qualifications but a bit of life experience, common sense and being calm under extreme pressure is a must. The London Ambulance Service deals with approximately 4500 calls per day, all of which have to be taken with the upmost care and accuracy.
You have to be able to cope with shift work and deal with working on all the "special" days of the year, ie Christmas, New Years Eve etc."
Where do you see yourself in 10 years' time?
"I'd like to try something else in the Service, I enjoy dealing with staff and making sure their stress levels are under control so maybe training to be a counsellor would be something I will look into."
AND JUST FOR FUN…
First in the office or last to leave?
"Well it's staffed 24hrs a day so that's impossible to answer!"
Tea or coffee?
"Tea please, quite strong, half a sugar."
Staff canteen or packed lunch?
"Canteen on day shifts Mon-Fri, packed lunch at weekends and on nights."
The lift or the stairs?
"Depends how far I have to go!"
Out after work or straight home to bed?
"Always straight to bed."
---