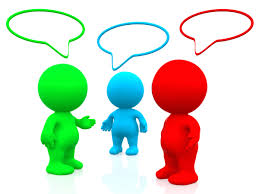 Welcome to this week's 'The Monday Interview'.
As an adviser who works with many career changers, this is a profession that I see a lot of interest in. And age can definitely be an advantage in this career area, where life experience can help and is appreciated.
Today we hear from Kat, who works as a counsellor whilst simultaneously studying to finish her degree in the subject. Phew! This is no career path for the faint-hearted but it is an area of work that offers great personal satisfaction and reward. The interview below gives a really detailed outline of her work along with a very honest account of the pros and cons. Thanks so much for this, Kat.
And if anyone is seriously considering a career move into counselling, please bear in mind that Kat is available for online, telephone consultations, advice and mentoring - just email her on kathiltoncounselling@gmail.com for more information :)
---
So, briefly, what is your job?
"I am a counsellor, trained in various modalities and working with a large client base. I offer one to one counselling sessions where people of all ages and genders can come and hopefully work out what is bothering them.
I often compare it to holding up a mirror. You, the client, comes to me with an issue. I, the counsellor, am there to offer space to work through this difficulty - someone who is not directly involved offering an alternative view."
How did you get into it?
"I studied psychology and sociology at college level. Whilst I enjoyed it I felt 'something' was missing although I could not figure out what it was. I left those studies and ended up working on a switchboard in a hospital. Whilst there I got talking to the bereavement team and I was offered a couple of days shadowing with them which I thoroughly enjoyed. I asked the team leader how working in this environment had come about for her and she pointed me in the direction of counselling. I interviewed and was accepted onto a level 3 counselling skills course where something clicked…I realised this was the something that had been missing.
After this I progressed to the Foundation Degree, I qualified in October after a lot of hard work, expense and demands on my time. I was fully qualified at this point however decided to carry on to get the BA hons qualification which finishes in May 2014."
Describe a typical day.
"Part of what I love about the job is that there are no typical days as such; things can change at the drop of a hat! Generally, though, I take my child to school before school starts as I have to get to work and, until May, university too. I head into the office where I open up, answer messages, take phone calls and check the diary alongside making a cup of coffee and opening the blinds.
Depending on my diary I either get some paperwork done (at the minute I am working on a bid for funding) and then prepare for client work. Depending on who I am seeing I may get some creative materials out for example. I read the notes of the last session to make sure I am up to date. I offer 60 minute sessions where a client can bring anything into the room from frustration over a job situation to domestic abuse, and it can be difficult moving from one to the other.
After each session I take 15 minutes or so to write up clinical and personal notes including any supervision issues. I can see up to 5 clients a day at the moment and the notes are important to ensure clarity. If there are safeguarding or court issues the notes are of even more importance as they can be called upon for legal issues. I have 1.5 hours supervision for every 8 client hours so this has to be factored in my diary also. I also have personal therapy once a month for an hour- I consider this my MOT!
The day can finish anytime between 8 and 9pm so I'm often working 12 hour days. Then its home, some domestic bits and pieces and a chat with my husband before getting some tea and going to bed."
What do you enjoy most about your job?
"Seeing people move. They can go from "I can't cope" to "I can cope and I can do it well". I love the fact that I have held them whilst they have uncovered their strengths and how they can move forward and get where they want to be."
And the least?
"The long hours and the cost it has taken to train. I have found that the true cost tends not to be revealed to trainees and it can be very hard even with student finance. For example books and general student life purchases go alongside personal counselling, supervision, travel expenses, time out of work to get placement hours (generally there are few to none out of hours places to volunteer). There is also childcare, professional body membership, insurance, work mobile, professional development courses and so forth and it adds up very quickly."
What are the common misconceptions that people have about the work you do?
"That all you do is sit and nod."
What are the main skills you need to work as a counsellor?
"Empathy, patience and strength."
Tell us a little about the benefits that come with the job.
"Counselling for me is more of a calling than a money maker. Unless you are one of the few there is not a great deal of money in it. In the north west counsellors tend to charge about £35-50 per hour of counselling depending on where they are. Out of that you need to consider the above expenses as well as advertising, business cards, rooms hire etc. and once you are a no longer a student the prices go up. The more clients you see the more your supervision costs increase also.
Having said all that, I love it. It became part of me and who I am not just a job, and the frustrations all seem to melt into insignificance when you see the client who first walked through the door with their head down and no eye contact look you in the eye and say "I'm good…really good."
What advice would you give someone wanting to break into this career?
"Don't underestimate the hard work that goes into every day, the preparation and wind down for client work and all the accompanying bits and pieces. And please remember that there are very few people who leave the course and walk into a counselling job; the competition is fierce and there are very few vacancies."
Where do you see yourself in 10 years' time?
"In our house in the country with my private practice up and running- the workshops that I want to facilitate ticking along and several chickens running around… not counselling related but important all the same."
AND JUST FOR FUN…
First in the office or last to leave?
"First in and last out, normally!"
Tea or coffee?
"Coffee."
Staff canteen or packed lunch?
"Packed lunch in the staffroom."
The lift or the stairs?
"The stairs - it's good for you thighs."
Out after work or straight home to bed?
"Bed - mores the pity."
---
If you are on Facebook or Twitter and want to make sure that you don't miss out The Monday Interview, and other blog posts, then you have the following options:
Facebook - go to my facebook business page and click on the 'Like' button (the main one at the top of the page, not the one linked to this post)
Twitter - follow me: @momentumcareers
Alternatively, if you want to view the complete blog series to date now, then simply click here.
---
Momentum Careers Advice is based in Welwyn, Hertfordshire, local to St Albans, Harpenden, Hatfield, Stevenage and Welwyn Garden City, but can provide careers advice, guidance and support via Skype, across the UK and beyond