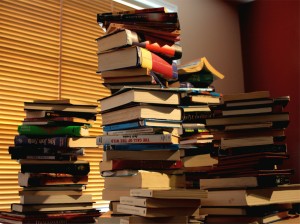 Broaden your subject knowledge
The most common error, without a doubt, that I see time and time again in UCAS personal statements is that students fail to convey any real passion or genuine interest for their chosen subject. This is particularly (but not exclusively) the case if they have prior experience of studying the subject at level 3 standard. Students assume that this is enough evidence in itself to prove to Admissions Tutors that they are suited to further study of the discipline. They are mistaken. And it is for this reason that some of the more convincing personal statements I have read in my time have come from students who haven't studied their chosen degree discipline before. In this instance they can't fall back on talking about what they have learnt from their A level/BTEC/IB syllabus. They must look for other ways of showing their academic interest.
To really think about how to impress with your UCAS application, it is important that you put yourself in the shoes of the Admissions Tutor - this is likely to be a practicing lecturer in the subject you are applying for. Anyone involved with academia will know just how much teaching professionals at this level live, eat and breathe their subjects. They want nothing more than to be teaching students who are interested and interesting - who can show a similar level of enthusiasm for their discipline. In order to show this, you need to do a lot more than say you enjoyed studying it at school.
So, what can you do here to make your application, and your enthusiasm, really stand out? The main thing is to show an understanding of your subject beyond your current curriculum texts and modules. Get reading. Get researching. Find an area of the subject that really fascinates you and do everything you can to find out more about it. Subscribe to relevant journals (most libraries will have copies if they are not available online). Read the national press paying particular attention to articles and developments relating to your subject interests. Look beyond the purely academic interest and apply your subject to society - think about why is it important that this subject is studied and what are the important issues or developments that are taking place at the moment? Start keeping a scrap book of news or journal articles that interest you. This will be an excellent preparation tool if you are ever invited to interview.
But these are not the only things you can do. If you haven't already, then start attending relevant events. There are a large number of free public events available that will do wonders to your knowledge, and your personal statement. Those of you based in and around London have no excuses. The LSE offers a fabulous programme of public events, particularly suitable to those of you with in interest in the social sciences, with an impressive list of internationally acclaimed past speakers. And for science students, organisations such as The Royal Society run great lectures and information events of a similar standard that are searchable through their website. Google is your friend here. Get on the internet and find out what may be available near you. Similarly, a lot of universities will be offering summer schools and taster days that will provide you with an excellent opportunity to broaden your knowledge base and show that all-important enthusiasm when it comes to completing your UCAS applications. The University of London have a great taster day search engine facility for finding out exactly what is available.
If your chosen degree subject is particularly vocational, do what you can to broaden your knowledge through work experience. This will be very much expected in certain degrees (teaching, social work and medicine to name but a few) and highly desirable in many others. One of the important things here is that you are given an opportunity to understand the realities of the career that you are ultimately aiming for, and that you can reflect this reality check in your personal statement whilst continuing to show enthusiasm for working in the profession. (I will be going into more detail about work experience in the next blog post). If you are finding it difficult to secure work experience, then find out about relevant careers events and get visiting. Use it as an opportunity to get information directly from current professionals.
There is so much emphasis these days on all the wonderful extra-curricular stuff you are supposed to be doing to make you appealing to Admissions Tutors that students sometimes forget the majority of your personal statement should be academically focused. Aim for at least a two-thirds bias towards your academic interests and achievements. It may be wonderful indeed that you can juggle with fire or that you have bungee-jumped from the highest bridge in Venezuela. But that, in itself, isn't going to get you onto your degree course.
---
If you missed them previously, the other steps in this blog series can be found here.
---
Momentum Careers Advice offers one to one career consultations to anyone who needs help with their university choices or decisions. We also offer a great value-for-money personal statement review service, to help optimise your chances of impressing the admissions tutors. For more information about either service click here.