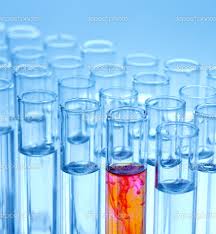 Welcome to this week's 'The Monday Interview'.
Let's face it, when we reflect on our school days, even amongst the science disciplines chemistry always struggled to be 'cool'. And this is a shame as, given the diverse nature of chemistry, there are many career opportunities available for those who hold this interest and skillset.
Today's contributor, Sandra, gives us a great insight into the working world of an analytical chemist; an area that will no doubt be increasing in demand over the years due to increasing concerns over issues such as levels of pollutants in the water and the existence of pesticides in our food. In this week's interview she talks about the highs and lows of her job whilst also providing proof that you don't have to be a male, middle-aged geek to succeed in this industry.
Thanks so much, Sandra, for your contribution. I think our readers will find it very interesting.
---
So, briefly, what is your job?
"I work for a worldwide energy services provider. We provide technical support to oil companies and refineries when they have problems with supply or loss of efficiency in their processing."
How did you get into it?
"I trained as a chemist and after a stint working as a pub manager (for a change!) I became a chemistry/senior technician in senior schools. However, I was bored by the routine and saw the analytical job advertised and thought I'd go for it!"
Describe a typical day.
"Typically there would be some samples arrive from refineries and a description of the problem they're seeing. I can employ a number of analytical techniques (or arrange to have some done externally)to deduce what is causing the problem."
What do you enjoy most about your job?
"The variety. Analysis is the main part of the job, but a large part is using your chemistry and experience gained on the job. It's great when you can figure a problem out and suggest a solution which can save/make a lot of money."
And the least?
"The people sending in the samples often have no knowledge of the analysis they're asking for, so explaining the time it sometimes takes can be tricky!"
What are the common misconceptions that people have about the work you do?
"That we're all nerds with no social life. I'm often told I don't look like a scientist. Mainly because I'm female, under 50 and wear make-up (or so I've been told!)"
What are the main skills you need to be an analytical chemist?
"Attention to detail. Lateral thinking. Problem solving. The ability to work methodically. Lots of patience. Prayer can be helpful!"
Tell us a little about the benefits that come with the job.
"The industry used to pay better, but there have been a lot of redundancies in the South especially in the last couple of years meaning pay has taken a bit of a downturn (although this can be said for many other industries too). If you're with a big company though, progression can be rapid."
What advice would you give someone wanting to break into this career?
"Starting at technician level is a good way -there's more emphasis on practical experience than on exact qualifications. A BSc or HND in a Chemistry related subject would be enough to get an interview."
Where do you see yourself in 10 years' time?
"On a research team developing new treatments for refineries to combat corrosion."
AND JUST FOR FUN…
First in the office or last to leave?
"Depends what's going on. It all evens out."
Tea or coffee?
"Tea."
Staff canteen or packed lunch?
"Packed lunch."
The lift or the stairs?
"Stairs. Plus plenty of running between office and lab."
Out after work or straight home to bed?
"Home to look after the dogs. Out at the weekends, though."
---
Momentum Careers Advice is based in Welwyn, Hertfordshire, local to St Albans, Harpenden, Hatfield, Stevenage and Welwyn Garden City, but can provide careers advice, guidance and support via Skype, across the UK and beyond