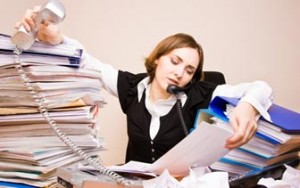 Just. It's a word we hear a lot in the PA community. Have you heard this? Have you said this? This is terribly sad, and is damaging, worrying and - above all - wrong. It confers a lack of status, a low importance, an inconsequential, junior member of staff. It suggests that a career as a PA is something people do because they lack the ability, skills, ambition or drive to do anything else. It's often perceived as a sort of 'default' job; one we do because we can't quite do anything else.
However - I'd ask you to think about something for a moment. Imagine a large office, full of people working away doing whatever it is they do - sales, media, professional services, computer programming - whatever. It could be anything. Now imagine that all of the secretarial staff got up and went home. What do you think would happen? Not only would you have an office full of people wondering where their PA had gone, they would achieve less and less; eventually there will be an enormous impact on the business. Phone calls unanswered, letters unwritten, files mislaid, invoices not sent, bills not paid - take this through to its logical conclusion and you will quickly see that the business would grind to a halt, lose clients and contracts, head into financial difficulty and potentially very quickly become inoperable.
So in fact, although often overlooked, the secretarial staff are what keeps a business (or organisation of whatever kind) in business. Without them, things would go badly wrong, and quickly. This means that administrative and secretarial staff are vitally important roles, and we must not consider them 'just' a secretary. These are skilled and important roles.
A support role today is likely to be more of a 'Personal Assistant' or 'Executive Assistant' than a traditional secretary. The days of the sterotypical 'take a letter, Miss Smith' are over. Nowadays, a PA could be planning international travel, speaking to clients, developing the business on behalf of her boss. She may be preparing very complex documentation using highly advanced IT skills. She will be a gatekeeper, ensuring that timewasting calls and interruptions are kept to a minimum, making decisions on what is important and what isn't. Tasks might range from organising an international conference call across six different time zones to running large projects such as a client conference or international visit. She will have a network of contacts of her own, and will know exactly who to speak to when she needs something. She will be well trained, with strong skills in communication, diplomacy, tact, planning, organisation, flexibility, crisis management…the list goes on.
It isn't 'just' a job when you know that your work has significantly contributed to the success of your business - landing that contract, gaining that client, delivering that project, making that sale. Without the PA, that doesn't happen. She is an integral and essential part of the business. And that's why it's not a job for those that lack the ability - or the inclination - to do anything else. It's a challenging job for those who want a career in which they can develop a great range of abilities and make a tangible contribution. For people who have a fantastic attitude and well developed skills it can lead into senior positions in any industry you care to think of - and even into international travel and a first class lifestyle if you want one.
In London, a PA only five years out of college can realistically earn £30,000. Give that a few more years and develop some seniority and you could be looking at £40k plus before you're 30. Go abroad, particularly to places such as Dubai and Saudi, and you can earn all that and more - in the sunshine! Top PAs to the elite can command in excess of six figures a year and travel all over the world.
Even if you aren't looking for the jetset lifestyle, a career as a PA can be a great choice. It will equip you to deal with any situation thrown at you, both in work and out. It is highly portable - you can switch around as often as you want (within reason - nobody likes a jobhopper!). Choose a new industry or sector and know that your skills will still be relevant. Move to a new area, and you're pretty much guaranteed that there will be something available that you can do. You can work flexibly, if that is what you wish to do. You can work shifts if that suits. It's a great choice, and there's no 'just' about it.
---
About the author: Liz has had a 20 year career in various PA and administration roles, and most recently has managed large teams of PA staff for a global professional services firm.