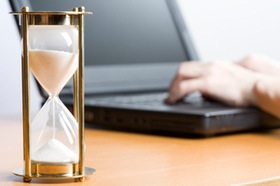 It's that time of year where my work starts to focus on the forthcoming cycle of university applications, in this case for September 2018 entry.
Having spent the last 15+ years working with university applicants, I am no novice when it comes to the realities of how students choose to interpret UCAS deadlines. In my last job I was regularly involved in HE progressions events and would often start the sessions with a UCAS focused multi-choice quiz. Most of the time I found our students to be fairly informed but the question that, time and time again, would pose the most difficulties was the one about UCAS application timescales. "When must you aim to complete your UCAS application?" I would ask, giving them a range of options to choose from. "15th January" would come the near-unanimous reply. And then faces would drop as I told them that, actually, if they want to think about optimising their chances of success, they should aim to complete their application as close to the beginning of the academic year as possible.
So why exactly is it advisable to submit an application as early as September if the official deadline for most subjects isn't until 15th January? The answer is quite straightforward.
When UCAS states that 15th January is their deadline many people are led to assume that universities will have spent 4 months stockpiling applications, ready for 'the big read through' starting 16th January. In the case of most universities, this is simply not how it works. University departments will have assigned Admissions Tutors (usually a practicing lecturer) by the beginning of the new academic year and from September onwards, whilst reading through submitted applications, the majority of them will also be making offers along the way. And every offer they make, is one less chance available to you. Hence, by the time 15th January comes around they may only have a handful of offers still to distribute, and a 2 foot high pile of applications on their desk still to read. Apart from the numbers game that you now find yourself in the middle of (with the odds stacked against you) consider how much more difficult it is to make a remarkable and original impression on an Admissions Tutor who has spent the last 4 months of his or her life reading through hundreds of Personal Statements. Consider also what it says about you as a student if your application only just manages to meet the deadline.
It is true that some university departments (usually where courses are particularly competitive) do still take a 'gathered field' approach to UCAS applications. That is, they will leave it until 16th January before they start making their final decisions on who is offered a place. That said, most of these departments will have eliminated the weakest candidates along the way leaving your late application competing with the cream of the crop.
So what is actually meant by UCAS's 15th January deadline is that this is the VERY LAST DATE by which universities are committed to reading and considering your UCAS form. Your application, if received on this day, will be read but it won't necessarily have the same chances (and impact) as one that arrived, say, 3 months earlier. Arrive a day later, however, and universities have every right to toss is straight in the waste paper bin.
Students - you've come this far and you've worked this hard; don't fall at the final hurdle. Aim to be the student who is already receiving your university offers whilst everyone around you is still writing their second/third/fourth personal statement draft. Aim to complete your application by early October at the latest (bearing in mind that your tutor still has to write and add their academic reference, which may delay things for another couple of weeks). If nothing else, get your application done and out of the way so that you can focus early on the all-important business of getting the grades you need.
---
Don't forget that Momentum Careers Advice offers a thorough personal statement review service for just £60. Alternatively, if you are having problems deciding which are the best course choices for you why not book a careers consultation?