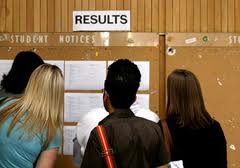 With A level results due to be released tomorrow it will no doubt be an anxious night ahead for thousands of students around the country, as they wonder if they did enough to achieve their required grades. But as most people will know, getting a university place is not purely dependent upon receiving the required grades for your Firm or Insurance choices. Last year saw a bumper year for 'clearing' - the system with matches university courses without students, to students without university courses - with over 57,000 young people being successfully placed in this way. So clearing is a great thing, right? Well, yes. And no….
Whilst I am never going to argue against that fact that the principle of clearing is wonderful, like with most things in life it works best for those who are prepared to do their research and make decisions that are informed and well thought through. The fact is that A level results day is an emotional day. It is an emotional day for those that meet (or exceed) expectations but it can be even more so for those who perform below par. And here lies the risk of clearing - it offers a solution to young people who may not be in the best mind set to make such important decisions. It is very easy, when surrounded by friends who all appear to have their futures mapped out for them, to accept 'something' rather than 'nothing'. So to play the clearing game well, you need to keep level-headed, and act with your head not just your heart.
From a universities point of view, whilst clearing candidates may make great students, they can also provide a risk. Drop-out rates tend to be higher for the very reason that so many young people make rushed decisions and end up applying merely for what is available rather than what they want or need. And so, from a student's point of view, alternative options may certainly be worthy of consideration. Perhaps, for example, disappointing A level results are indicative of the fact that a bit of time is needed out of the education system? There are great school leaver opportunities around these days, apprenticeships are definitely on the up and, with the economy picking up, there are always entry level positions available that can give young people great exposure to the work place that offer real career paths. And education can always be entered at a later point, perhaps when a student has firmed up their idea on what it is that they really want to do.
Without getting too controversial, I am aware that many schools promote clearing as the only real option to disappointing A level results because it benefits their own leaver's statistics. That is, it raises the percentage level of students who leave them and enter university directly - one of the benchmarks so often used to prove a school's success. But that isn't to say it is the best option for the student themselves. Entering university after a gap year can bring wonderful benefits. Contrary to the message that is often given out by schools, gap year applicants are welcomed by many admissions tutors due to the extra maturity they bring with them, which often results in higher retention figures as, after a year in the big wide world, these students feel more ready to cope with the demands of university. And from the students prospective, a year (or more) out of education can be used to develop a whole host of important skills and experiences. Let's not forget the benefits of being able to apply for courses at a point when you knowing exactly what you can offer, in terms of grades, or the benefits of achieving higher grades through retakes and being able to apply for a better calibre of course. What I'm trying to say is there are other options and these may be better for a student's own circumstances.
I will stress that this isn't meant to be an anti-clearing post. Thousands of students make great choices through clearing every year. And if you haven't thought much about clearing so far there is still time yet. Whilst clearing definitely works best for those who have had time to put thought into their Plan B and who have spent previous weeks researching alternative courses on offer, and whilst the most sought after places often disappear within the first few days, the process itself continues until 22nd October - the last date at which universities can official accept clearing candidates. So even the late starters have time to put in some solid research and should be well prepped to spend their time wisely tomorrow to see what is available and be prepared to sell their skills.
So, yes, clearing can be a great thing. But only if you go into it with the right intentions and proper thought and planning. But it isn't necessarily the best choice for everyone. Students shouldn't be rushed into decisions they aren't ready to make. As I hear myself saying to clients so often 'career success isn't a sprint - it's a long distance race'. And sometimes a bit of time out can mean that you actually reach your end goal quicker than those who appear to get the early start.
Good luck to all students awaiting A level results tomorrow :)
---
Momentum Careers Advice is based in Welwyn, Hertfordshire, local to St Albans, Harpenden, Hatfield, Stevenage and Welwyn Garden City, but provides advice, guidance and support to clients of all ages and locations via Skype.