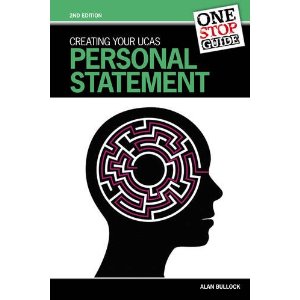 'Creating Your UCAS Personal Statement' uses the author's 35 years' experience as a careers adviser to give students an invaluable insight into what university selectors are really looking for, all packaged up in a small and compact 32 page book.
After a short introduction, the book is arranged over 5 chapters. Chapter 1 explains the purpose of the personal statement in terms of the general message that you should be giving and, importantly the language that you should be giving it in. Chapter 2 provides a collection of tips directly from university selectors, including how to demonstrate enthusiasm and originality. The next chapter focuses on what the content of your statement should include, giving possible headings for the paragraphs you may want to use. Chapter 4 uses case studies to illustrate the ways of using the advice in the book and the final chapter gives some tips to help you get your statement started.
There are a number of texts offering similar on the market. Where this book really excels is in its accessibility (it only takes 12 minutes to read from cover to cover - making it appealing to even the most reluctant of applicants), and it's plentiful use of direct quotes from selectors, giving real life examples and tips from the people who count. This makes the book suitable reading not just for students, but for teachers, advisers, parents and anyone else involved in the UCAS application process.
At just £2.00 per copy it is difficult to find any reasons to justify not buying this book.
---
Creating Your UCAS Personal Statement (2nd edition) was published by Trotman Education in September 2011 and can be bought direct from Amazon or Waterstones.