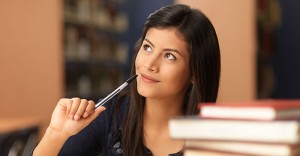 Reflecting on your current studies is a good interview preparation tool for a number of reasons:
The interviewer may want to know a little bit more about what you have enjoyed and learnt from the content of your current studies (particularly, but not necessarily, if you current studies are related to your degree course subject)

The interviewer may want to know also about the 'type' of student you are, not just about knowledge you gave gained, but the study skills you have developed along the way.

Spending time focusing specifically on the positive elements of your current studies should help you to feel more positively about your academic abilities and potential in general. Hopefully this feeling will carry through to your university interview, where positivity and enthusiasm are both very powerful qualities to portray.
So, let's start with the basics. If you are a literature of language student, be prepared to talk about any of the texts you have studied. If you a science student, be prepared to talk about a particular piece of research that you have carried out. If your recent studies have been largely essay based, think back to some of the essays you have written and subjects you have covered, and be prepared for broad questions such as "what is one of the recent topics you have really enjoyed learning about?" Have something fresh in your mind so that the question, should it arise, isn't met with a big silence.
With regards to your study skills, think about the ways that you have worked best and the new skills you have acquired. You may well be asked to describe what kind of student you are. So think back to the different study techniques you have used. Hopefully you are a planner and take an organised approach to your workload. Be prepared to tell them about this at interview and perhaps, describe a time when you were successfully able to juggle a number of deadlines. Do you enjoy project-based work? Or team work? Perhaps you have learnt to hone your presentation skills as part of your current course. All these details will be of interest to university interviewers. Don't forget that they will want to see evidence of people who are motivated learners and who possess good self-study skills. One of the biggest reasons why people drop out of university is because they can't get the hang of organising their own workload and start to fall behind. You need to be prepared to convince the interviewers that this is not going to happen to you.
Think about your achievements from your current studies. What have you been particularly proud of? What new skills have you managed to master that you didn't think you would be able to? Even if these questions are not asked directly, they will help to give you that sense of positivity which is so vital to display at interview.
In summary then, think not just about the knowledge you have gained, but the study skills you have developed and the achievements that you have accomplished along the way. Go armed to the interview with examples fresh in your mind that you will be able to talk confidently about.
---
Don't forget that Momentum Career Advice offers a mock interview service for just £60.