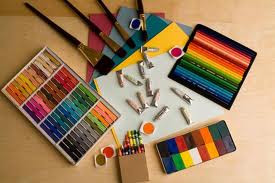 Welcome to this week's 'The Monday Interview'.
When I started this blog series over a year ago my intention was not only to give people honest insights into certain professions, but also to raise awareness of some of the lesser known career choices that exist. And I really think that today's interview will do just that.
The NHS is, without a doubt, a huge employer. But are we aware of the breadth of jobs that exist within it? The truth is that a great many opportunities exist outside the more standard roles like doctors, nurses and physios. Today we are about to focus on one of them, as this week's contributor, Jessica, talks about her work as an Art Psychotherapist - a great option for those who may want to apply creative skills and thinking to a helping role.
I know that I, personally, have found this interview most interesting to read and I hope that you will too. Thank you so much, Jessica, for opening our eyes to this relatively new career area and sharing your story with us.
---
So, briefly, what is your job?
"I am an Art Psychotherapist, working in adult mental health for the NHS & I am part of a Community Mental Health Care Team, comprising of Psychiatry, Psychology & Psychotherapy, Nursing, Social Work & Arts Psychotherapies. My job role is to see people for art psychotherapy who present with a wide range of mental health issues i.e Depression & anxiety, bi-polar disorder, Psychosis/Schizophrenia or Personality Disorder."
How did you get into it?
"You need an arts degree of some kind or one in psychology or related healthcare, but life experience and a portfolio of art work also count towards a place on the M.A in Art Therapy, Once qualified you become a member of a regulatory body,(HCPC) without which you can't practise in Health, Education, Prisons & probation or privately."
Describe a typical day.
"I might do an assessment clinic in the morning, which involves co-working with a Psychiatrist to give a psychological perspective on someone new who has been referred, (mainly these come in from their G.P) Otherwise I mainly see people for an hour each, or run a group. I also see people at an inpatient unit who are acutely unwell i.e actively psychotic or suicidal."
What do you enjoy most about your job?
"Art Psychotherapy gives people the opportunity to express their difficulties visually, images can be symbols & therefore hold many different meanings which can be explored over time. The relationship that is built within therapy also holds resonance from formative relationships (i.e parents, siblings) & these then have the chance to be re-experienced & understood from a different less damaging perspective. It is humbling to be part of such a transformative process."
And the least?
"The way the government relentlessly moves forwards in its plans to privatise the NHS without listening to the professionals who work in it. The 'care packages' that are coming in reduce patients to commodities & only allow them a small amount of treatment if any at all."
What are the common misconceptions that people have about the work you do?
"I think one of the main misconceptions is that you have to be 'good' at art to benefit from it, also that I can 'analyse' 'people's images: images are part of the therapeutic relationship & can't be reduced to one meaning, or 'read' in isolation. Also that it's a 'soft' psychological intervention. The making & viewing of an image can be very powerful in therapy."
What are the main skills you need to work as an Art Psychotherapist?
"The ability to hold several different levels of thinking in your mind at the same time. You also need Patience, knowledge of different art materials and the process of making an image. And the ability to reflect on your own motivations & needs as well as those of others: personal psychotherapy is mandatory part of the training."
Tell us a little about the benefits that come with the job.
"At present the NHS is a good employer in terms of annual leave & flexible working. I earn about 35k pro rata, but it could start at less and increase to above that. In other areas art psychotherapists tend to be self-employed at about £45-55 an hour."
What advice would you give someone wanting to break into this career?
"It is a relatively small and new profession (official training began in the early 1970's) You need to be determined, creative and possess some business acumen to survive. Having said that, the training is life changing & the work rewarding & challenging."
Where do you see yourself in 10 years' time?
"If I am not still in the NHS & we start to come out of recession. I would like to set up a social enterprise that offers a holistic approach to mind & body. This would include all the arts therapies - Art, Music, Drama & dance Movement, plus Yoga, diet advice & allergy testing, & anything else with an acceptable evidence base."
AND JUST FOR FUN…
First in the office or last to leave?
"Sometimes either, but not on the same day."
Tea or coffee?
"One of each and a lot of herbal teas."
Staff canteen or packed lunch?
"What staff canteen?"
The lift or the stairs?
"Stairs."
Out after work or straight home to bed?
"Depends what's on offer! ;)"
---