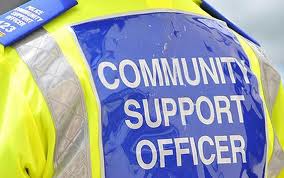 Welcome to this week's 'The Monday Interview'.
I've got a really useful comparative interview to bring you today. Some of you may remember a few months ago I featured an interview with Rob, who gave us a great insight into working in the police force through his current role as a police sergeant. Well, what happens if you are interested in maintaining public law and order but, for whatever reason, you are not sure whether the role of police officer is for you?
Working as a Police Community Support Officer certainly requires many of the same skills but places you in a position where you are clearly visible within the community on a daily basis - something that can't be said for all law enforcement roles. It is, quite simply, about making the community feel safer and thus improving their collective quality of life. Sounds like a fabulous job for the right person and in today's interview we hear from one of these very people. Thank you, Katie, for talking to us about a job that you clearly enjoy.
---
So, briefly, what is your job?
"I'm a Police Community Support Officer for West Yorkshire Police. This involves high visibility patrolling, tackling anti-social behaviour, dealing with minor (non-detectable usually) offences, gathering criminal intelligence and supporting front-line policing within the Neighbourhood Police Team. So basically we are there to be seen, be accessible as in people can just walk up to us and speak to us and make the community feel safe. We are not there to catch criminals but it does happen. Despite what the Daily Mail says most people like us and are reassured we are about and about."
How did you get into it?
"I used to want to be a police officer as a teenager but back then there was a height restriction so I abandoned the idea. Some years later I met a woman who worked as a radio operator for the police and by co-incidence a job was advertised doing this in the local press which I applied for and got. A couple of years later I thought I quite fancied the PCSO role as I wanted to get off my arse and 'out there' so when they advertised I applied. I didn't need any formal qualifications just to pass the internal application process."
Describe a typical day.
"My day starts with a briefing about the past 24 hours then checking my emails and other systems for any tasks I've been allocated. I then leave the station and catch a bus to my beat. I start with patrolling outside the school that's been allocated to me for inconsiderate parking. After this I will get on with my tasks which are usually revisits to victims of crime to give crime prevention advice. I also have engagements with various groups, such as church, elderly etc. Other than that I spend patrolling the streets. Where I work is a DPPO (no drinking zone) so I have to pay particular attention to a couple of priority areas, such as a shopping precinct, a cemetery, stairwells of tower blocks and check no one is street drinking. At the end of the day we then have to submit intelligence such as people we may have seen and where, gossip we've been told etc. My shifts are either 'earlies (seven am to three or four) or 'lates' (two/three pm to eleven or midnight)."
What do you enjoy most about your job?
"Meeting people, talking to children at school and on the streets, and chatting to elderly folk. Just trying to make people's lives safer and better. And catching criminals. I've done that a couple of times."
And the least?
"Walking around in the cold/rain and having abuse shouted at me."
What are the common misconceptions that people have about the work you do?
"That we are idle and ineffectual and are just police wannabes with no powers."
What are the main skills you need to work as a PCSO?
"Patience, a thick skin, a good memory (especially for names and faces) and to be able to chat to people."
Tell us a little about the benefits that come with the job.
"The pay isn't bad but it isn't great either - about £25k. We have a reasonable holiday entitlement and I like working shifts as I like the variety and having time off mid-week."
What advice would you give someone wanting to break into this career?
"Get some relevant life experience…volunteer work especially with young people can be really useful. And to not take life too seriously."
Where do you see yourself in 10 years' time?
"In exactly the same place, I hope."
AND JUST FOR FUN…
First in the office or last to leave?
"First in but definitely not last out!"
Tea or coffee?
"Coffee."
Staff canteen or packed lunch?
"Packed lunch. There is no work canteen and therefore too much temptation for take outs."
The lift or the stairs?
"Usually the stairs, except when patrolling those 16 storey tower blocks."
Out after work or straight home to bed?
"Straight home - I see enough of my colleagues at work!"
---