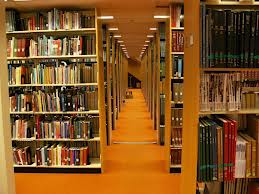 Welcome to this week's 'The Monday Interview'.
Are you a book lover? Do you have an interest in information management and a desire to work with the public? Then read on…
In today's interview we hear from Martin, a library assistant, whose job encompasses all of the above and much more. Long gone are the days when librarians sat in silence, stamping one book after the next. It is a job which has well and truly moved with the times and, these days, is reliant on technology-savvy staff who are able to identify new and easier ways to share information with library users.
It's a sector which recruits at all levels - from the starter jobs as library assistant to the fully qualified librarians, many of whom will hold relevant Masters Degrees. But, as we hear from Martin today, rising up the career ladder may require a bit of patience of you do enter at the lower rungs.
As ever, I'm eternally grateful to my contributors who make this blog series possible. Thanks so much, Martin, for talking us through your job.
---
So, briefly, what is your job?
"I am a Library Assistant, I'm responsible for customer service, reference and information enquiries and running events in the library, particularly beginners' IT courses and the "Work Club" which helps people with CVs, job searches, covering letters etc in a very informal way."
How did you get into it?
"I quit teacher training to spend more time with my family and it was the first thing I found that appealed to me. Generally, the qualifications needed are Cs in English and Maths and basic IT skills. I have a degree so I was under-shooting in the hope of finding something quickly."
Describe a typical day.
"I will come in at either 8 or 9 and try to get admin tasks done before the library starts to get busy at 10. My time will then be divided between serving customers, processing stock and delivering events. Some days we will have an event in the morning and afternoon meaning most of the day will be taken up with planning, delivering and then evaluating that event. Customer service usually involves helping customers find stock, recommending titles and helping customers using the self-issue machines (for both taking books out and booking onto computers) or finding information."
What do you enjoy most about your job?
"Helping people improve their skills, the challenge of finding obscure information, discussing books customers have read, have a good laugh with some of the other staff, and working with so many books to choose from is like being in a sweet shop."
And the least?
"Some customers can get worked up over the slightest things. Some management will not support you over a customer complaint, no matter how ludicrous. Qualifications are treated with suspicion by some who will go out of their way to belittle or make life difficult for you. Unique personal skills are not utilised effectively, if at all. At the moment I feel there are no real opportunities for career progression for me - I'm basically waiting for the "old boys club" to retire (although most of them are girls, not boys).
I also run my own online business selling laser-engraved products including iPhone covers, tax disc holders, hip flasks etc This serves as a refreshing break because I can make changes and explore new things as I see fit. Four separate meetings aren't need for an action to be taken!"
What are the common misconceptions that people have about the work you do?
"That we just stamp books all day (we don't even do that anymore!) People often think it's a soft job and, as a result, library staff find it difficult to leave the industry as employers think we lack transferable skills."
What are the main skills you need to work as a library assistant?
"Patience and a thick skin. You must also enjoy working with people, and have a love of reading."
Tell us a little about the benefits that come with the job.
"The pay is rubbish for entry level (1st year 12k, 2nd year 14k, capped at 16k for Library Assistants - obviously this will vary slightly from region to region with some areas paying more). But you get free CD/DVD hire, and first pick on all new books."
What advice would you give someone wanting to break into this career?
"You will probably not earn a lot of money, and people who have been in their jobs for a long time and have a vested interest in the status quo will often hamper your ideas. Make sure you have excellent IT skills and/or skills with Children, at least one of these is essential."
Where do you see yourself in 10 years' time?
"Hopefully I will have written a novel and they will be begging me to do a book signing! Failing that in a more senior role - most of the old guard will have retired by then touch wood!"
AND JUST FOR FUN…
First in the office or last to leave?
"First in."
Tea or coffee?
"Coffee."
Staff canteen or packed lunch?
"Takeaway in town."
The lift or the stairs?
"Stairs."
Out after work or straight home to bed?
"Bed."
---