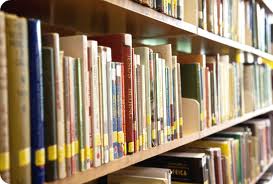 Visit your local/school careers library
OK, so this step could equally be called 'start your university research' but I'm particularly keen to promote book-based research here. Sometimes it pays to take a step back from online research and the countless distractions that the internet brings and instead, schedule in a 2 hour session at the library (no cheating - you're not allowed to book a computer) where you can really focus your time on moving forward with your UCAS decisions.
Careers advice is a funny old world where a few of the really key information resources still cannot be found online but should be available in most decent sized libraries - although this is starting to change. If you don't have access to your school or college careers library at the moment then the likelihood is that your local council-run library will have a well-equipped careers section which will serve your purposes just as well.
Look out for books by Brian Heap - he is the guru of written HE advice. In particular his book "Choosing Your Degree Course and University" gives a concise account of some of the distinguishing features of different degree courses around the UK, breaking the information down first into subject areas, then into individual universities. It's sister book, "University Degree Course Offers" gives an idea of the likely UCAS points offer that each university course will make, written in an easy-to-read comparative format. This allows you to pitch your applications at the appropriate ability level. It also goes on to give some very useful tips for applications and interviews, including the most common areas of mistakes or assumptions that candidates make. Both these books are published annually so the information is up to date and accurate.
Other notable texts to looks out for include comparative university guides such as 'The Times Good University Guide'. Guides like this provide hard facts and practical information on everything from graduate destination statistics, to teaching standards, to information on the living costs and local social scene. And this particular text provides one of the most widely respected and used university league tables. It takes the key measure of quality as its focus, allowing you to make informed choices.
And then there are the prospectuses. We all know that this information is available online, through the various university websites, but there is something very appealing about being able to flick through the information in book format, in order to get an idea of whether the institution is somewhere you want to study or not. And don't forget it isn't just about the course information. You need to be happy with the study environment, so having a look at pictures of the campus, the accommodation on offer and the local area is vital in choosing an institution where, ultimately, you are going to be happy to study.
Of course, this list is just for starters. There is much more out there which may suit your particular needs better. But the point is that a lot of people dismiss the value of some of the written resources when starting their university research. And by doing so, they are missing out on some of the most useful information around. I am not suggesting for a minute that a 2 hour session at your local library is going to give you all the answers to the many questions you may have on which university and course is right for you, but it will provide an excellent starting point for your research.
If you are disciplined enough to want to carry out your research online (whilst not being distracted by the likes of Facebook and twitter) there are some sites very worthy of mention. In my opinion, online HE resources have really upped their game in the last few years so it would be a shame to miss out on what they have to offer. Many of these will have access to the Times and Guardian league tables as well as, in some cases, league tables of their own. Try sites such as www.thecompleteuniversityguide.co.uk, www.whatuni.com, and university.which.co.uk and http://www.comparetheuni.com/, all of which are jam-packed full of useful information for prospective students.
---
If you missed it previously, step 1 of this 6 part blog series can be found here.
---
Momentum Careers Advice offers one to one career consultations to anyone who needs help with their university choices or decisions. We also offer a great value-for-money personal statement review service, to help optimise your chances of impressing the admissions tutors. For more information about either service click here.